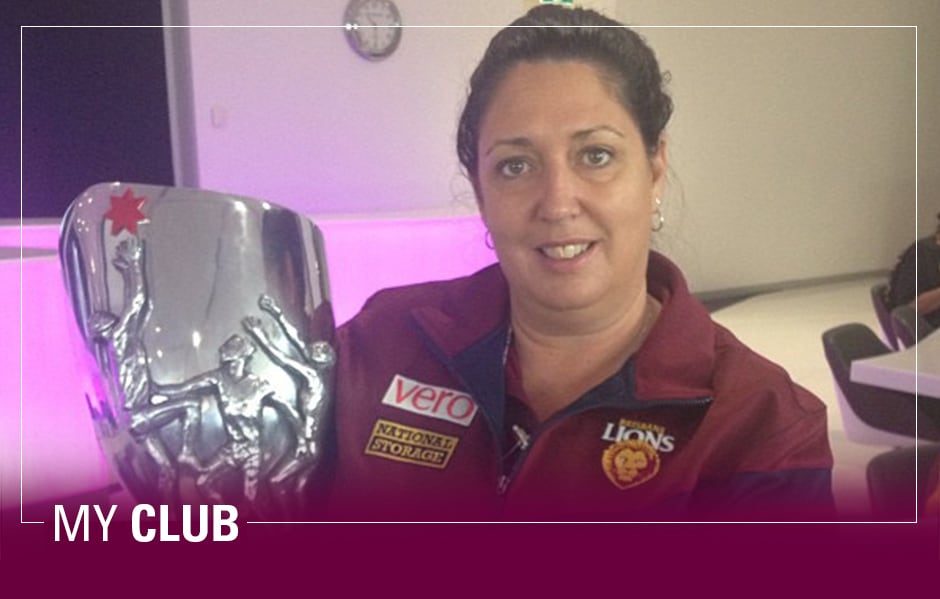 Nicole Duncan has literally seen everything at the Brisbane Lions.
She is one of just two staff members who have been at the Club from Day 1.
Her role has seen her write post-it notes to coaches on game day, cut vision to make VHS tapes for players, make more than 60 phone calls in one day and run the bench.
This weekend, in her role as Football Administration Manager, she will undertake the logistical nightmare of having the entire AFL and NEAFL teams, staff, plus all injured players travelling to Melbourne for one mammoth weekend of games and activities.
In her more than 26 years at the Lions and Bears, she's come a long way.
Duncan started at the Club as a football secretary in 1993 with the Brisbane Bears, five days before their season opener.
"If you had to change training you had to make 60 phone calls and leave messages on answering machines," she said.
"You'd have to send someone to the training venue to turn everyone around if it was at a different venue.
"So different to what it is now, in 30 seconds you send a group text and everyone knows now that something's changed."
Visually she's seen the Gabba also comes leaps and bounds.
"The dog track was still here so every game was a Sunday," she said.
Before Champion Data was formed, clubs did their own statistics throughout the game. Another role that Duncan occupied.
"When someone got up to five possessions, you'd pass a post-it note across to the coaches box," she said.
"That was the only way to communicate."
During the week she would literally cut film vision of players from their game on the weekend and create individual VHS tapes for them.
Compared to today, where vision is coded from a hard drive by football analysts for all players and coaches to access quickly.
Duncan has been there for all major events in the Club's history. She was with the football staff and players when they were told the Bears would exist no longer and would merge with Fitzroy to become the Brisbane Lions.
"We'd just started to become successful as Bears so it was a little bit of 'what do we need to merge with this Club for?'" she said.
"But the benefits internally far outweighed the negatives as far as the Club was concerned.
"It was the members who took it the hardest. I remember going to some of those meetings and people were just up in arms that they were going to lose their clubs."
In a strange way the merge had significance to her family. Duncan's father had played for Fitzroy in the 1960s. She remembers working at the canteen and watching footy on the weekends.
Duncan photographed with Kevin 'Bulldog' Murray and his Brownlow Medal.

But she says she didn't start to love the game until she was right in the thick of it for the Lions.
"I think you spend so much time with the people here. It's all-consuming," she said.
"1998 was the year before Leigh Matthews and there was a lot of internal strife," she said.
"Leigh came and put a broom through the place virtually and that's when we started to rise.
"He was a strong leader, kind of like what Fages is like now.
"Leigh had a vision and then everyone got swept along with that."
2001, when the Club made their first AFL Grand Final, Duncan started to panic.
"I think I was the only person who went 'oh s***,'" she said.
"Everyone else is jumping up and down.
"I'm thinking 'I'm not going to be able to sleep this week.'"
To top it all off, Ansett Australia, the Lions airline, had collapsed that week.
"People were driving. In the end we chartered two planes."
In four years, the Club reached four AFL Grand Finals, which was a huge undertaking for Duncan. But one she loved and hopes this group could taste one day.
During her 26 years, she's seen the Club as a whole evolve.
Jed Adcock, Mitch Golby, Jack Redden, Nicole Duncan and Niall McKeever.

"I was the only one [woman] working in the football department for a very long time," she said.
"It's only been in the last decade that women have become accepted."
Recently she's become the interchange bench manager.
"Back in the day you wouldn't even have been considered because you were a girl," she said.
In saying that, it's not a role that most people envy.
"It's one of the worst jobs in Australia," she said.
"It's hard work if you get it wrong.
"If you get it wrong there are big consequences.
"You've got to stand in the rain, in the sun.
"You have to be able to say no and turn them around… You get a few sprays."
Nicole Duncan with Jonathan Brown's daughter, Olivia inside the Lions' changerooms on game day.

On game days she is often the "Ms Fix It". Players forget mouthguards, socks, even boots and she must find a way to make it work. In her whole career, only one player has missed a flight.
With the new season just around the corner, Duncan has a good feel about what this team is capable of.
"I think this group is really good," she said.
"They're really level headed.
"We don't have a lot of big-heads in our Club and never have."
The views in this article are those of the author and not necessarily those of the AFL or its clubs