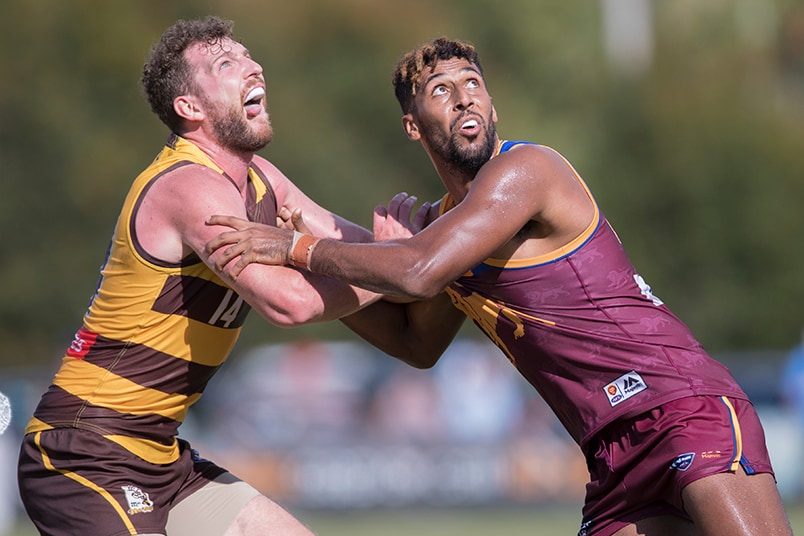 Archie Smith will make a long-awaited return to the Brisbane Lions side on Saturday night to end a 671-day absence from AFL football - sixth longest in club history and longest without a major injury.
Recalled to replace Oscar McInerney (managed) against Hawthorn at the Gabba, 23-year-old Smith will play his 10th AFL game and his first since Round 19 2017.
Archie is #Uncaged for Round 11 as he makes his return to the senior side to take on the Hawks! #AFLLionsHawks pic.twitter.com/DCXJScnkQo

— Brisbane Lions (@brisbanelions) May 30, 2019
Only four Lions players – one of them twice - have spent longer periods between games..
Beau McDonald, 2001-02 premiership ruckman, was 1029 days between his 75th game in 2003 and his 76th game in 2006 due to recurring knee problems.
Richard Hadley, best remembered for playing in 2003 premiership in just his fourth game, holds the second-longest and third-longest spells between games, also due to knee problems.
He was 850 days between his debut in Round 3 2001 and his second game in the 2003 semi-final, and then, after playing his 27th game in 2004 grand final, he waited 932 days for his 28th game in Round 3 2007.
Fourth on the 'long absence' list is 2001-02 premiership player and current Geelong coach Chris Scott, who was 728 days between his 213th game in the last round of 2005 and his last two games in the last two rounds of 2007 due to hip problems.
And fifth on the list ahead of Smith is Steven Lawrence, who was 706 days and a merger between his 13th game in his first season in 1995 and his 14th game in Round 15 1997 because of a bad knee.
Smith is no stranger to long waits. He was also three years on the Lions list before his AFL debut after choosing to play football over basketball.
A junior basketball teammate of NBA stars Ben Simmons and Dante Exum, Smith had been targeted for a possible college basketball stint in the United States before Lions scouts spotted him at a State basketball tournament and offered an alternative pathway.
With an outstanding vertical leap and supreme athleticism, he did enough in his first season with the Queensland U18 side and the Lions Reserves to earn a spot at the Gabba via the 2014 Rookie Draft.
His AFL debut under coach Justin Leppitsch against Port Adelaide at the Gabba came 11 days after his 21st birthday and was touted at the time as possibly the best ever by a Queenslander.
Outstanding in the ruck and fierce in his work at ground level, he had 19 possessions, including 17 contested possessions, 30 hit-outs, nine clearances and five tackles in a 94-point loss.
Statistically, it was the best debut ever by a Brisbane ruckman.
Indicative of just how good it was, only two Lions players had more than Smith's 17 contested possessions in any game in the 2016 season - Tom Rockliff had 18 twice and Mitch Robinson 19 once.
Only Rockliff (26), Daniel Rich (24) and Rhys Mathieson (20) had more possessions than Smith in his first game, and Smith's nine clearances was a team high.
The 203cm giant, son of former Chicago Bulls (NBA) and Brisbane Bullets All-Star centre Andre Moore, played Rounds 19-20-21 under Leppitsch in 2016 and another six games in a row under Chris Fagan in Rounds 10-12-13-14-15-16 in 2017.
But despite consistently good performance in the NEAFL, and a 2017 flag to add to that which he won in 2013, he has found his pathway back to the senior side blocked by the durability of veteran Stefan Martin and the improving McInerney.
All smiles for the Lions NEAFL team today! Undefeated in 2019 after four rounds 👊🏼 pic.twitter.com/Pf62uBkje8

— Lions NEAFL (@LionsNEAFL) April 27, 2019
Frustrating for Smith has been the fact that he is more a No.1 ruckman, like Martin, than a forward/ruck like McInerney. And since Martin was rested when Smith first played in Rounds 18-19 2016 the former Melbourne ruckman has played 57 games without a miss.
McInerney, too, had played 26 of a possible 27 from his debut until this week.
Still, Smith is regarded as an important part of the future and signed a two-year contract extension at the start of the season, locking him into the club until the end of 2021.
Although it is only 35 games ago in pure football terms eight of his teammates that night are no longer at the club – Daniel Merrett has retired, Josh Green has retired after moving to Essendon, Pearce Hanley is at the Gold Coast, Rockliff and Sam Mayes are at Port, and Michael Close, Liam Dawson were Matthew Hammelmann were delisted.
And only Harris Andrews, Eric Hipwood, Ben Keays, Mathieson, Rich, Nick Robertson, Robinson and Dayne Zorko of that side will play alongside him Saturday night, with Ryan Bastinac, Tom Cutler, Lewis Taylor and Josh Walker not selected, and Ryan Lester injured.
Overall, the Brisbane history shows 25 players have spent 27 periods of longer than a year between games. Like Hadley, Brent Staker suffered this frustration twice due to injury.
The next longest absence without a major injury is subject a little to definition of 'major injury' but probably belongs to Jesse O'Brien, who was 476 days between games in 2012 and 2013. He played mostly in the NEAFL during this period.
Jackson Paine was 613 days between games in 2014 and 2016 and probably qualifies for the 'major injury' exclusion despite playing two NEAFL games in 2015 after a long shoulder lay-off and before a season-ending ankle injury.
Ben Keays, recalled with Smith for tomorrow night's clash with Hawthorn, has dodged inclusion on this list. He will be nine days short of a year since his last game in Round 12 last year (10 June).
Still in line to join this group are Sam Skinner, who tomorrow night will be 671 days since his first and only game, Jacob Allison, who is 391 days since his last game, and Matt Eagles, who hasn't played in 371 days.
Details of breaks of a year or more are:-
BRISBANE FOOTBALL CLUB
Longest Time Between Games

Player

Start

End

Days

Round

Year

Round

Year

McDonald, Beau

14

2003

5

2006

1029

Hadley, Richard #2

GF

2004

3

2007

932

Hadley, Richard #1

3

2001

SF

2003

850

Scott, Chris

22

2005

21

2007

728

Lawrence, Steven

18

1995

15

1997

706

Smith, Archie

19

2017

1

2019

671

Withers, Mark

19

1988

7

1990

646

Hamilton, Shane

24

1992

10

1994

638

Staker, Brent #1

23

2011

8

2013

630

Paine, Jackson

23

2014

9

2016

630

Christensen, Allen

11

2016

1

2018

608

Staker, Brent #2

23

2013

3

2015

595

Lappin, Nigel

20

2005

1

2007

594

Bartlett, Trent

21

1996

1

1998

581

Scott, Brad

QF

1999

1

2001

574

Bradshaw, Daniel

22

1998

1

2000

562

Keating, Clark

PF

1999

1

2001

561

O'Brien, Jesse

3

2012

19

2013

476

Close, Michael

2

2015

19

2016

474

Corrie, Anthony

9

2006

21

2007

454

West, Trent

11

2014

20

2015

441

Boyd, Brad

9

1997

17

1998

427

Wood, Cameron

5

2005

11

2006

412

Beams, Claye

2

2013

9

2014

406

Cornelius, Aaron

9

2009

13

2010

391

Clark, Mitch

7

2006

9

2007

378

Robbins, Ben

18

1998

18

1999

365
Among others, Alastair Lynch was an entire football season and one day short of a year out of the game due to his battle with Chronic Fatigue Syndrome. He played Round 1 1995 and not again until Round 1 1996. Brett Voss and Matthew Moody were 363 days between games.
The longest period between games in AFL history is the break of 13 years 12 days almost 100 years ago by Syd Barker, after whom the North Melbourne best & fairest award is named,
Barker played two games for Richmond as a 20-year-old in 1908 before switching to the then VFA with North Melbourne, where he played in premierships in 1910-14-15-18, captaining the last two.
He didn't play at the top level again until 1921, when he joined Essendon after North had disbanded amid discussions of a possible merger with Essendon.
After the merger was blocked by the State Government he played 57 games with Essendon from 1921-24, and was captain-coach of the 1923-24 premiership sides. He had two years out of football before nine games in 1927 with North Melbourne, who had joined the then VFL (now AFL) in 1925.
Smith's 671-day break between games will put him fourth on the list for current players,
It is headed by Jonathan Marsh, former Collingwood turned St.Kilda defender who was a supplementary selection by the Saints this year after two years off the scene. He was 979 days between games.
Adelaide ruckman Reilly O'Brien, who debuted in Smith's second game, was 963 days between his first two games in 2016 and his third game this year, and former Fremantle ruckman Zac Clarke, now at Essendon, was 858 days between games before he, too, received a career lifeline via the supplementary selection rules.
The views in this article are those of the author and not necessarily those of the AFL or its clubs