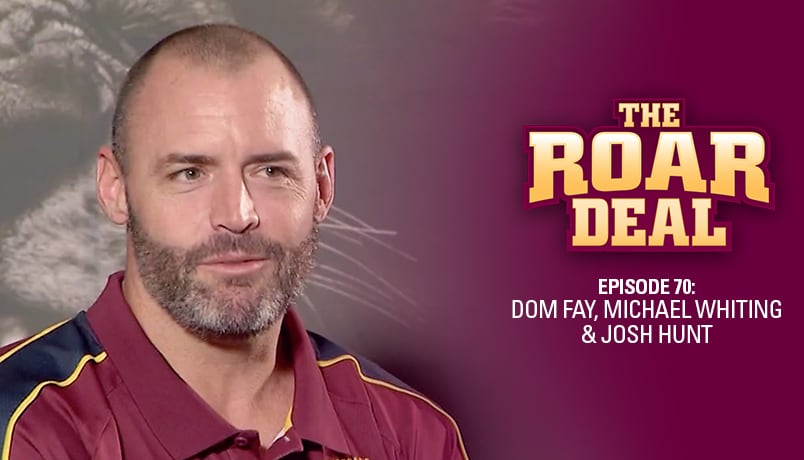 Hyundai Help for Kids Lions Academy Coach Josh Hunt joined Mike and Dom on The Roar Deal to talk about the professionalism of the program and future players to look out for.
Hunt has been with the Academy since 2016, after a successful career as an AFL player at Geelong and GWS. He won two premierships with the Cats in 2007 and 2011.
He is passionate about producing the best south east Queensland talent in his Academy, with the hope that they could go on to one day experience what he did as a professional athlete.
Hunt said the introduction of the NAB Under 18's League in 2019 has provided a fantastic learning opportunity for his Academy players. This year they came up against teams from the traditional footy state of Victoria, including Eastern Ranges and Sandringham Dragons.
"Whilst we didn't win many games … we get to play against some Melbourne teams which was great for us," he said.
"For our players that's a money-can't-buy sort of experience and they get to get out of the Queensland bubble and the Club situation and see what the grand footy landscape looks like."
Players are asked to join the Academy in a number of ways including starring at Club level, being recognised by AFLQ staff at their school program, noticed at one of the Lions' Talent ID days or even by existing Academy players.
Hunt works closely with AFLW Coach and Director of Coaching (Academy) Craig Starcevich on the curriculum for the male and female Academy players.
He said one of the best parts of his job is watching the players develop and improve on the small things – he refers to them as a "golden nugget."
"That's the challenge I like as a coach, trying to find the marginal gains in each one," he said.
Now that the NAB Under 18's League has finished for the year, Hunt will now turn his focus to acting as an assistant coach for the Allies Team at National Championships. He will be a line coach for the defenders, under former Lions legend Luke Power, who is coaching the Allies.
"Just to cut my teeth in that high-level environment as a line coach as well, I guess from a PD [professional development] point of view, it's great fun," he said.
The views in this article are those of the author and not necessarily those of the AFL or its clubs