It was hardly big news six years ago when Stef Martin joined the Brisbane Lions.
At 12.08pm on Friday, 26 October, 2012, as the AFL Trade period wound down, The Courier-Mail posted an online story of six short paragraphs and 112 words confirming the deal.
Martin, targeted by the Lions to be a ruck back-up to #4 draft pick Matthew Leuenberger despite being nearly 18 months older, was traded from Melbourne to Brisbane in exchange for selections #53 and #73 in the 2012 National Draft.
The Demons had originally demanded #33 for the 198cm ex-basketballer, who had played 57 games in five years, but the Lions stood firm and eventually they got their man.
Martin, an Australian basketball representative at 17 who hadn't played serious football until 2007, was originally secured as a project player by Melbourne with selection #3 in the 2008 Pre-Season Draft.
He had played 57 AFL games in five years with the Demons from 2008-12 - 8-19-2-21-7 on a year-by-year basis – and was 10th in the Melbourne best & fairest in 2011. But essentially he'd had two good years and three others.
Having graduated from Haileybury College in 2004 with an entrance score of 99.75 to rank among the top 40 students in Victoria, his focus was split between football and study, and he wasn't exactly in massive demand among AFL clubs at the time.
Yet with the invaluable benefit of hindsight, the move to lure him north was a super deal for the Lions. Certainly worth much more than 112 words in the local paper.
Melbourne used selection #52 to draft Labrador utility Matt Jones, who played 61 games from 2013-16, and selection #71 to elevate 20-game rookie Daniel Nicholson to the senior list. He played a further 12 games in 2013-14.
While both are confirmed members of the former AFL players club, Martin this week prepares to play his 100th game for the Lions in what has been one of the great second chance stories in recent League football.
The numbers say it all. Among 315 Brisbane players, 116 have played for the Club after beginning their AFL career elsewhere, including seven Fitzroy players who headed north via the merger to wear the adapted Fitzroy jumper from 1997.
Only 10 have played 100 games for the Brisbane Lions – six during the Bears era from 1987-96, when more than half the players were 'imports', and four since 1997. They are:-
205 - Chris Johnson
186 – Alastair Lynch
164 – Roger Merrett
146 – Brad Scott
145 – Scott McIvor
140 – Mal Michael
113 – John Gastev
107 – Adrian Fletcher
106 – Martin Pike
101 – Brad Hardie
Other "imports" who have topped 70 games for Brisbane have been Craig Lambert (96), Michael McLean (88), Mike Richardson (81), Andrew Bews (75), Dion Scott (73) and Matt Maguire (71).
Martin, a former Australian junior basketballer, will be the 11th import centurion when the Lions play the Gold Coast Suns at Metricon Stadium on Saturday night in QClash16.
The Martin trade wasn't an immediate success. After playing the first four games of his first season at the Gabba in 2013 he missed nine weeks with a bad ankle, spent six weeks in the NEAFL and did his hamstring in his AFL return in Round 20. Season over.
When he missed the first seven games of 2014 with a back problem and then played three games in the NEAFL it meant of a possible 32 games he had played five.
But since Round 12, 2014, he has played 94 of a possible 99. He missed two games through suspension in 2015, was rested in Round 19 2016 and officially listed as 'sore' when he did not play the following week.
Only captain Dayne Zorko has played more. One more.
And Martin hasn't just played. He has starred.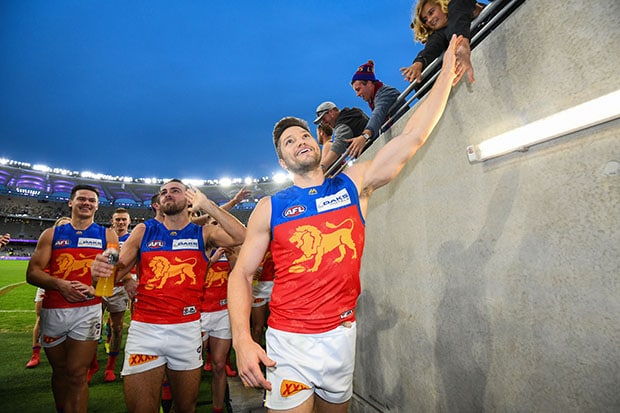 He shared the Merrett Murray Medal with Zorko, Dayne Beams and Mitch Robinson in 2015, finished third behind Zorko and Robinson in 2016 and third behind Zorko and Beams in 2017.
So consistent has he been that now, at 31, there is an argument to say he's been the most valuable ruckman in the competition since a defining day in Round 11, 2014, that prompted his return to the Senior side.
The Lions, coached by Justin Leppitsch, hosted Carlton at the Gabba in what turned out to be Robinson's 96th and fifth-last game for the Blues.
The home side won by seven points despite a massive 16-70 deficit in the ruck hit-outs.
Robbie Warnock led the hit-out demolition for the Blues with a career-best 57 with support from Levi Casboult (12) and Sam Rowe (1). Trent West (9) was the Lions' No.1 ruckman, with occasional support from Dan Merrett (3), Tom Rockliff (3) and Jack Redden (3).
Martin returned to the Senior side the following week, and has been a wonderfully durable and valuable servant over the past four and a half years since.
It has been an era in which Fremantle's Aaron Sandilands (2014), North Melbourne's Todd Goldstein (2015), Melbourne's Max Gawn (2016) and Port Adelaide's Paddy Ryder (2017) have been the All-Australian ruckman.
West Coast's Nic Naitanui, the 2012 All-Australian ruckman, has been another constant through this period after the Western Bulldogs' Will Minson, the 2013 All-Australian ruckman, was pretty much finished as an AFL force at the end of 2015.
So how does Martin compare statistically in this period against Sandilands, Goldstein, Gawn, Ryder and Naitanui, using ruck-specific areas like disposals, goals, hit-outs, tackles, clearances, contested possessions and goal assists as a means of comparison?
Martin has played significantly more games than only Goldstein, who has had the benefit of seven finals appearances.
On an aggregate basis, he ranks #1 within this group for disposals, clearances, contested possessions and goal assists. And is #2 behind Goldstein in hit-outs and tackles.
It is only in goals that he is inferior, ranking last among the six big men.
Even on an average basis, Martin ranks #1 in disposals, clearances and goal assists, and is #2 in contested possessions. He is #5 in hit-outs and tackles and #6 in goals.
SINCE ROUND 12 - 2014 – AGGREGATE

Player

Games

Disp

Goals

H/O

Tkls

Clear

CP's

GA's

Martin

94

1792

13

2989

224

423

878

48

Gawn

75

1052

40

2905

203

193

580

26

Ryder

67

791

49

2017

167

220

516

29

Goldstein

99

1387

58

3695

357

311

747

42

Naitanui

62

749

36

2036

204

247

599

20

Sandilands

62

726

20

2481

88

169

454

17

SINCE ROUND 12 - 2014 – AVERAGE

Player

Games

Disposals

Goals

H/O

Tkls

Clear

CP's

GA's

Martin

94

19.1

0.1

31.8

2.4

4.5

9.3

0.5

Gawn

75

14.0

0.5

38.7

2.7

2.6

7.7

0.3

Ryder

67

11.8

0.7

30.1

2.5

3.3

7.7

0.4

Goldstein

99

14.0

0.6

37.3

3.6

3.1

7.5

0.4

Naitanui

62

12.1

0.6

32.8

3.3

4.0

9.7

0.3

Sandilands

62

11.7

0.3

40.0

1.4

2.7

7.3

0.3
Certainly it makes the Martin trade, effectively for Jones and Nicholson, a big winner.
Significantly, too, while Martin has flourished in Brisbane, Leuenberger, now at Essendon, is unable to get a regular senior game.
Leuenberger played five games with the Lions in Martin's first year at the Club and 14 in 2015 before instigating a free agency trade that has seen him play 28 games in three years with the Bombers – 20 in 2016, seven last year and one this year while finding himself playing second fiddle to Tom Bellchambers.
The race among current Lions players to be the next import to play 100 games for the club is probably between three: Robinson (66), Beams (63) and Allen Christensen (53).
Note: Simon Hawking was the eighth player who moved from Fitzroy to Brisbane via the merger with Chris Johnson, Brad Boyd, Jarrod Molloy, John Barker, Shane Clayton, Nick Carter and Scott Bamford but he never played a senior game for the Lions.