The AFL has officially committed to naming its indigenous showpiece the Sir Doug Nicholls Round for the next two years.
The League has honoured Nicholls during the indigenous round since 2016 and is expected to continue to do so for time immemorial, but it has now formalised an agreement with The Nicholls Foundation to pay tribute to him until at least 2020.
On the 112th anniversary of Pastor Sir Doug Nicholls' birth, AFL chief executive officer Gillon McLachlan signed the agreement with members of the late Nicholls' family.
"Sir Doug Nicholls was a pioneer when it came to reconciliation. Along with this, it was his passion for and commitment to Australian football which helped bring together the many other significant achievements in his life," McLachlan said.
Nicholls Foundation chairperson Gary Murray, a grandson of Nicholls, said the agreement not only recognised the achievements of one of the most significant indigenous leaders in history, but it also strengthened a growing indigenous partnership with the AFL.
"Pastor Doug would be more than proud of these developments to further enhance his work," Murray said.
Nicholls, who died in 1988 at 81, remarkably rose to prominence after being raised on the Cummeragunja Aboriginal mission in southern New South Wales, where he learned to play football barefoot and was virtually illiterate.
Nicholls played a key role in shaping not only the Fitzroy Football Club, but also the entire VFL competition and Australian sport in general.
Doug Nicholls with his Fitzroy teammates in 1933.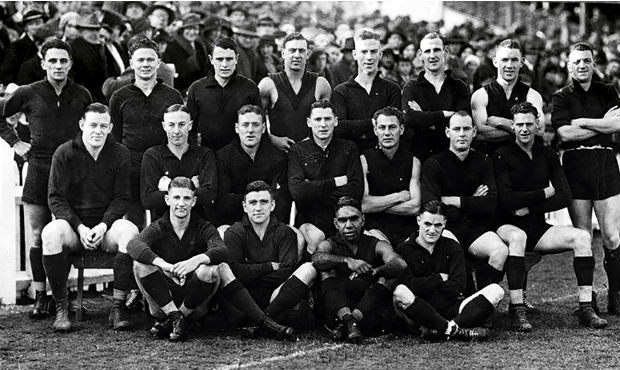 Despite standing at just 155cm, Nicholls was lightning fast and always showed great sporting promise.
Nicholls made his senior VFL debut with Fitzroy in Round 1 of 1932 at the Brunswick Street Oval against Carlton.
The Nicholls legend only grew following his retirement from football in 1937.
A proud Christian who would often organise football church parades, he went on serve as a social worker in the Fitzroy Aboriginal Community before becoming Pastor of the first Aboriginal Church of Christ in Australia.
His outstanding service was later recognised when he became the first to be knighted (for "distinguished services to the advancement of the Aboriginal people").
Among other honours, he also was named Father of the Year in 1962, was the first Aboriginal Justice of the Peace in 1963, was made King of Moomba in 1973, and spent a year as Governor of South Australia from 1976-77.
A man of many firsts for his people, Nicolls is also the first person to have an AFL round named after them.
He truly was one of the great pioneers of the Indigenous community.
Today, on his 112th birthday, search engine giant Google recognised his birthday with a tribute on its homepage.