The Brisbane Lions Board are proud to announce that Chris Fagan will remain as Senior Coach until at least the end of the 2021 season after he signed a two-year contract extension.
The playing group's improvement on field and the positive, stable environment created off-field, were major factors in the Board's decision to extend Fagan's contract.
"The Board are very pleased to extend Chris Fagan's contract," Chairman Andrew Wellington said.
"Chris has played a critical role in re-establishing a stable environment at the Brisbane Lions. He has provided tremendous leadership to the playing and coaching group as well as being incredibly supportive of the off-field initiatives of the Club.
"I know the Board are all very much looking forward to continuing working with Chris to make our Club successful."
Fagan is excited by the Board's vote of confidence in taking this Club back into playing finals football in the coming years.
"For the Club to give me the opportunity to go on for a couple more years after the end of next year is really exciting," Fagan said.
"I feel like by that time we should be a really strong, highly respected Club.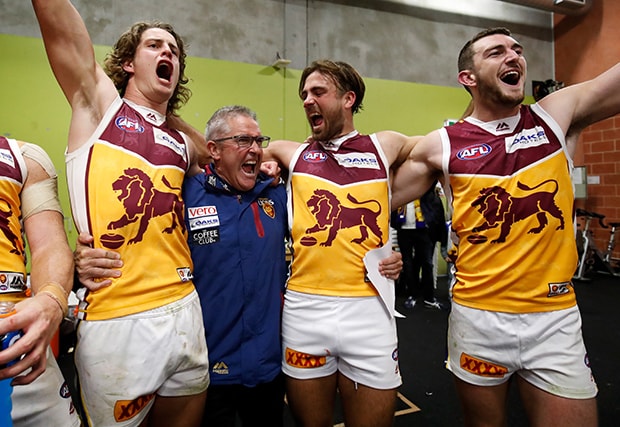 A former schoolteacher, Fagan is passionate about his men's development both on and off the field.
"I feel like we've made our Club a good place to be, where players are improving as people as well as footballers," he said.
"The core task of the job is to develop a group of men into a team and also to develop them individually as footballers and as people.
"I love that part of it. When you see growth in people and you see them grow in confidence and belief, that's what gives you the real buzz to come to work."
Fagan came to the Lions in 2016 at the start of the 2017 pre-season. Previously he had worked at Hawthorn Football Club as their Head of Coaching and Development, during their premiership era. Before that, he was an Assistant Coach at the Melbourne Football Club.
Fagan hails from Tasmania and was inducted into their AFL Hall of Fame in 2007.
Seven players are currently contracted until the end of 2021: Harris Andrews, Zac Bailey, Charlie Cameron, Hugh McCluggage, Cam Rayner, Daniel Rich and Brandon Starcevich.
"It's great to know that these players have committed long-term to the Club," Fagan said.
In further great news, the Brisbane Lions' Official Coaches Partner, The Coffee Club, has signed on for a further two years, until at least the end of 2020.