For a country girl born in a small town in Western Australia's outback, the idea of one day living in the big smoke to pursue a professional football career would've been all but a dream.
Let alone to do so with your childhood best friend.
Today, Arianna Clarke and McKenzie Dowrick are still pinching themselves for the fact that they not only play for the Brisbane Lions, but are preparing to play their first AFLW season together.
Clarke and Dowrick grew up in the small mining town of Kambalda, about 60 kilometres from Kalgoorlie.
The pair met in grade three at the local primary school and have been joined at the hip since.
"We went to school together and in that same year we started playing football together at the Kambalda West Eagles," Clarke said.
It was a Dowrick sibling who nudged both of them towards a love for football.
"Her older brother played footy and on the weekends we used to run around in their backyard trying to versus him," Clarke said.
From then on, weekends were spent driving to Kalgoorlie, the closest town with only a boys junior football team.
Clarke (No.15) and Dowrick (No.3) playing for the Kambalda West Eagles.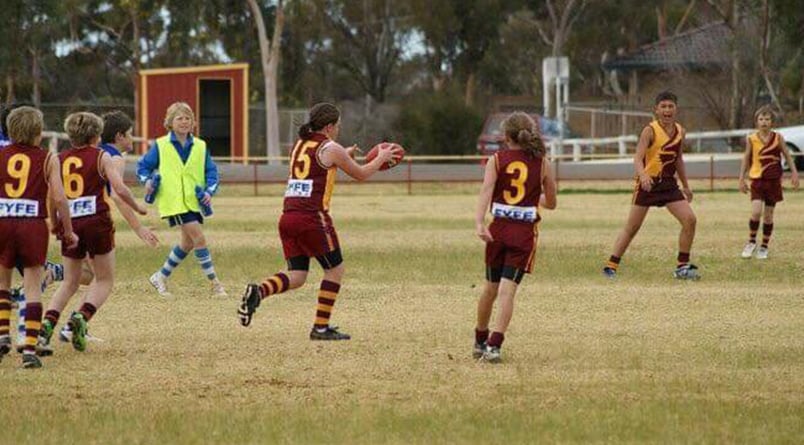 "On Saturday's our parents would drive us to Kalgoorlie, we'd get bacon and eggs on the way and then play footy," Clarke said.
"Kenzie [McKenzie] was only seven and you had to be at least eight years old to play, so we had to lie about it.
"She got one of our friends birth certificates and pretended it was her." Clarke joked.
Growing up in a town of only 3,000 people, the two girls had to find new ways to entertain themselves.
For a third grader in the country, motorbike riding was it.
"Our parents had a rule though; you had to be home before the street lights turned on," Clarke said.
"As long as you were home before the sun went down and the street lights came on."
In 2012 after finishing grade seven, Clarke and her family moved away from the outback to create a new life on the Gold Coast.
Three years later, Clarke and Dowrick played against each other for the first time, representing their respective states at the Under-16 School Girls National Championships.
It wasn't until this year when Dowrick came to visit Clarke on the Gold Coast that the idea of playing together again one day soon began to brew.
"She stayed an extra three days on the Gold Coast with me so we could hang out," Clarke said.
"I wanted to show her my life in Queensland and I sort of was like, 'Imagine if you played for the Lions and we lived together.'"
"I played with the idea in her head a little bit."
Before long, this year's AFL Women's Draft arrived and Western Australia's Dowrick nominated Queensland as her state of choice.
McKenzie became a Lion.
Clarke surprises Dowrick at the Gold Coast airport.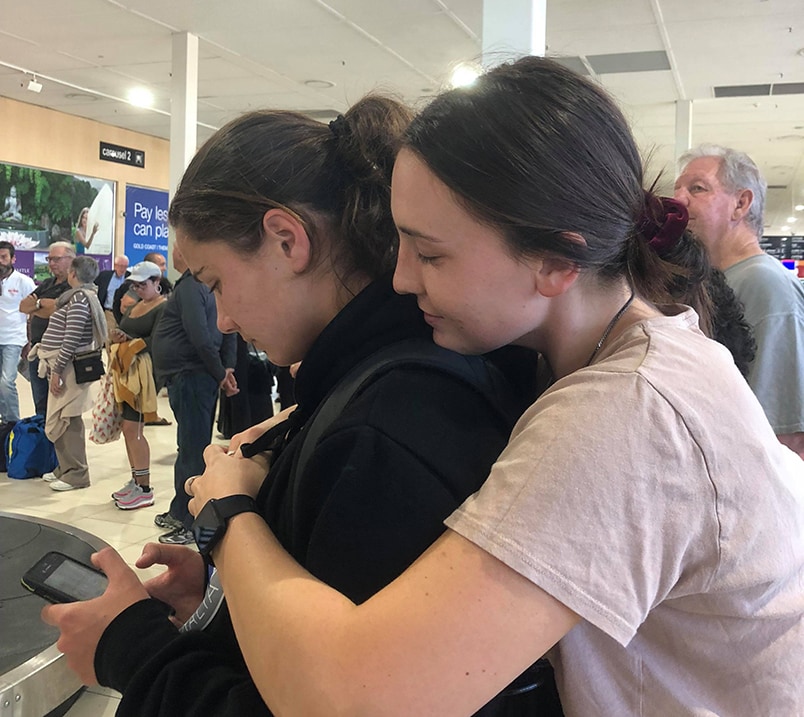 "It's funny how it has all turned out," Clarke said.
"It's pretty cool, I've got my best friend with me."
Clarke and Dowrick are almost inseparable. They live, work and play football together.
"We're very alike. The way we like to have things very clean, the way we like to eat our food and the music we listen to."
"But it's still weird, I'll walk out into the living room and I still think, 'What the heck, how are you here in my house?'"
Following an incredible debut season which saw Clarke play all eight games including the AFLW Grand Final, she couldn't be more determined to come back stronger in her second year.
As McKenzie prepares to join her in the third AFLW season, the two couldn't be more stoked to finally be playing on the same team again.
"I'm loving it," Clarke said.
"To be able to say you work, live and play for the Lions with your best mate, that's pretty cool."