Season 2019 has kicked off in style for Connor McFadyen and Tom Fullarton, both signing contract extensions to remain at The Gabba until at least the end of the 2021 season.
Both are Queensland products, who started their career at the Hyundai Help for Kids Lions Academy.
Fullarton signed on as a Category-B Rookie midway through last season, coming over from a professional basketball career. McFadyen was taken with the Club's Pick No.42 at the recent 2018 NAB AFL National Draft.
Both played in the Lions NEAFL side last year and will be striving towards a senior debut in 2019.
Tom Fullarton and Connor McFadyen at pre-season camp in Hobart.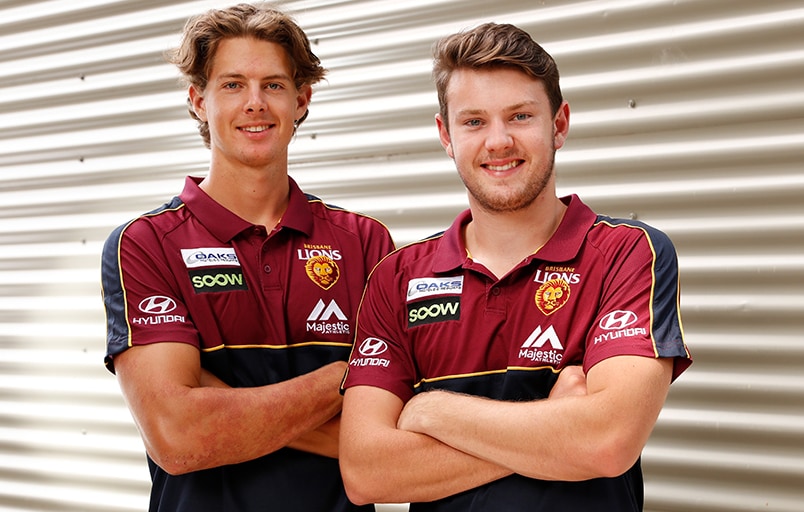 McFadyen said the NEAFL experience was invaluable for his development.
"Last year was probably the best year I've played so it was awesome," he told lions.com.au.
"I trained with most of them during the week and played with the NEAFL team on the weekend. It was really good fun."
The 18-year-old admitted he was nervous on November's draft night and hoped that he would hear the Lions call out his name.
"Being an academy kid you sort of hope that you will go to the Club that you are linked to," he said.
"It was really good to end up at the Lions."
McFadyen is yet to train properly with the group this year as he overcomes a foot injury.
Fullarton, on the other hand, has enjoyed an uninterrupted pre-season.
"I think my endurance especially is a lot better coming back," he said.
"We had a really strong core-group that were running together over the offseason which really helped my development."
Now armed with six months back in the AFL system, the 19-year-old is feeling more confident with teammates and for the season ahead.
"I think that helps as well, being more comfortable around the playing group, knowing them a bit more on a personal level," he said.
"It's really fun going to work every day.
"I've really enjoyed my time so far with the Club and am really looking forward to playing footy again in 2019."
General Manager of Football David Noble said the Lions look forward to seeing what the pair will produce in years to come.
"We were pleased to offer Tom and Connor, both Lions Academy alumni, an extension after being impressed with what we have seen so far,"
"Tom made a huge personal decision in his conversion from basketball to AFL and we want to show the same investment back in him.
"In the limited time he had on field in 2018 he did not miss a beat and has returned in great shape this pre-season.
"We know what Connor is capable of, after a promising 2018 season for our NEAFL team, before we drafted him in November.
"He is overcoming a foot injury at the moment, which has delayed his start, but we look forward to him returning on field in the coming months."
Great news for your Sunday!

Two Lions sign on: https://t.co/K3zQDZA0y9 pic.twitter.com/bO2Y7cEUVF

— Brisbane Lions (@brisbanelions) January 19, 2019