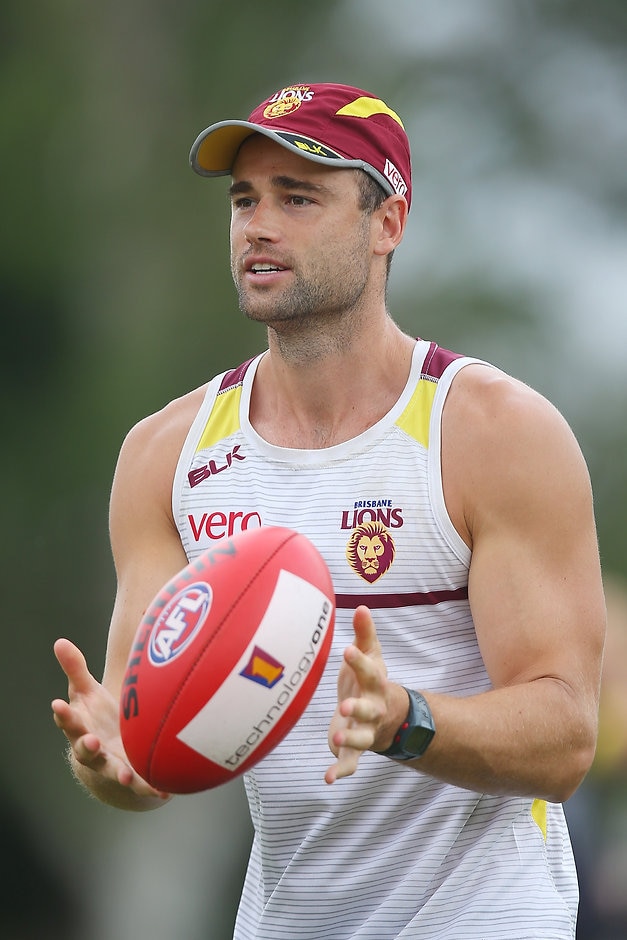 Brisbane Lions ruckman Trent West has retired.
The 28-year-old spent eight seasons with Geelong and the past three with the Lions, but ultimately injuries got the better of him.
West announced his retirement to the Lions' playing group on Monday and is expected to play his last game against the GIANTS in the NEAFL on Saturday.
He played 70 career games, kicking 28 goals and was a premiership player for Geelong in 2011.
West ruptured his ACL in 2014. He managed four senior games this season but still felt hampered by his knee.
"I felt it was the right time to tell everyone. I feel like there is a weight lifted off my shoulders now," West told lions.com.au.
"I probably made the decision a while ago and as the year went on that decision probably got clearer for me, mainly because of my body – my knees.
"I could've tried to play on for a year, but I would be battling, I reckon.
"The way I have gone this year, not being able to train during the week just so I can play on the weekend, it's been pretty hard in that regard, just doing everything for my knee to get it up and going for each game.
"That's probably the main reason, (however) mentally I am also ready to get on and do something else.
"In the frustration of the last couple of years I've had enough time to think about life after footy and I'm pretty excited for it."
West headed to Brisbane during the 2013 off-season in search of greater opportunities and said despite his football setbacks he has enjoyed his time in Brisbane.
"I've loved my time up here. The weather is obviously a huge difference to back down south. They're a great bunch of guys up here and the staff have been great to me.
"We're looking to move back south (to Victoria) at this stage. I'm not 100% about work, I'm looking at a couple of different things. I'm definitely looking forward to spending more time with the little guy (West and wife Libby's son, Jack) and more family time on the weekends."
West counts a narrow win over St Kilda on ANZAC Day in 2014 as a highlight during his time at the Lions.
"We had lost a few games in a row and to win that game over there was great. It was a great experience to get away with the team."
West also nominates a pre-season trip to Arizona after first being traded as a highlight of his time at the Club, and a point where he was able to establish firm friendships.
"I was so glad I went and spent those first two or three weeks with the guys. I shared a room with Brent Staker. It was a great experience to get to know the guys that way.
"There aren't a lot of highlights in rehab. It's a fair grind, but knowing I was never in there on my own was a comforting feeling - there were always plenty of other guys to work with."
West urged members and supporters to stick with the Club in what have been challenging times.
"We've shown patches throughout the year and played some pretty exciting footy. I think it's just about playing it consistently enough for four quarters and we'll start winning more games.
"There is definitely some excitement there.
"Hang tight through these tougher times until the group gets a few games under their belt and starts getting some good games together."
Trending Articles
The views in this article are those of the author and not necessarily those of the AFL or its clubs