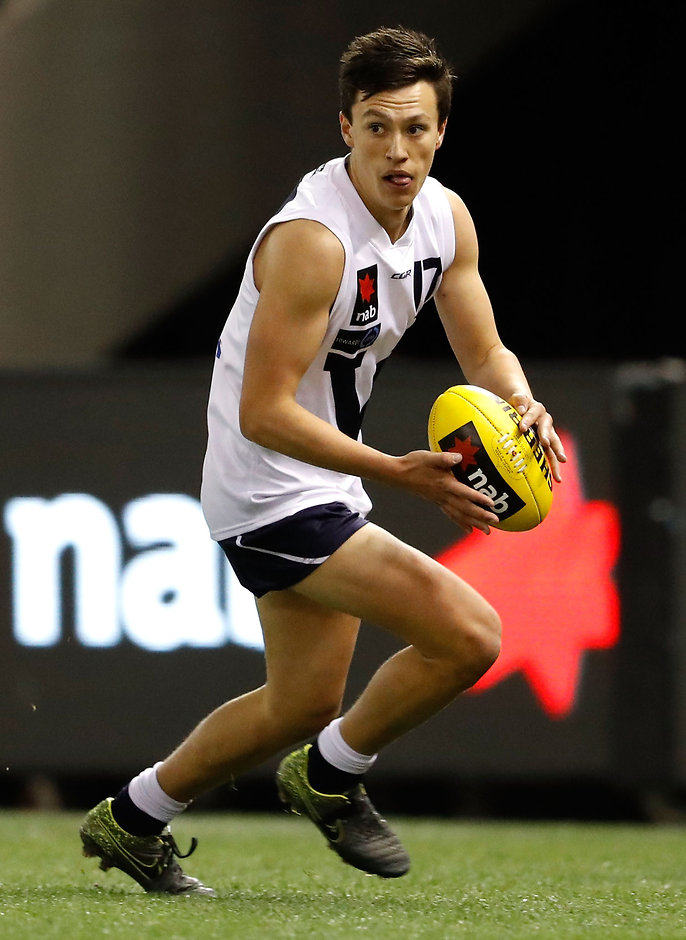 SOME of the country's top prospects will get one final hit-out before November's NAB AFL Draft at Friday's Under-18 All Star match.
The match will pit the Brenton Sanderson-coached 'Team Judd' against the Tadhg Kennelly-coached 'Team O'Loughlin' and feature highly rated prospects such as Hugh McCluggage, Ben Ainsworth, Andrew McGrath, Sam Petrevski-Seton and Hyundai Help for Kids Lions Academy player Declan Watson.
An U17 version with the same coaches and team names will be played at the MCG on Saturday as a curtain-raiser to the Grand Final (this game will be streamed LIVE on AFL.com.au).
But all recruiting and spectator eyes will be on Punt Rd on Friday with goalkicking midfielder McCluggage and his Victoria Country midfield mate Ainsworth both touted as top-three draft prospects.
Collingwood's father-son eligible players Josh Daicos and Callum Brown will be on show, as will GWS Academy prospect Harry Perryman and Gold Coast Academy player Jack Bowes.
Joe Atley, younger brother of North Melbourne's Shaun, and Jonty Scharenberg, whose older brother Matt is a Magpie, will also play.
Friday's match will begin at 1.30pm AEST.
Saturday's match is at 10am AEST (watch it LIVE on the AFL.com.au).
At the conclusion of each match, one player will receive a NAB best-on-ground award.
FRIDAY'S TEAMS
Chris Judd Under 18s
1. Shai Bolton (South Fremantle, WA), 2. Josh Daicos (Oakleigh Chargers, VIC M), 3. Ben Ainsworth (Gippsland Power, VIC C), 4. Andrew McGrath (Sandringham Dragons, VIC M), 5. Brandan Parfitt (NT Thunder/North Adelaide NT), 6. Alex Villis (Norwood, SA), 7. Jordan Gallucci (Eastern Ranges, VIC M), 8. Harry Perryman (Collingullie, NSW/ACT), 9. Hugh McCluggage (North Ballarat Rebels, VIC C), 10. Bailey Morrish (Dandenong Stingrays, VIC C), 11. Will Hayward (North Adelaide, SA), 12. Tim Taranto (Sandringham Dragons, VIC M), 13. Joe Atley (Bendigo Pioneers, VIC C), 14 Hamish Brayshaw (Sandringham Dragons, VIC M), 15. Jack Bowes (Cairns, QLD), 21. Sam Powell-Pepper (East Perth, WA), 22 Joshua Begley (Eastern Ranges, VIC M), 23. Cameron Zurhaar (East Fremantle, WA), 24. Jarrod Berry (North Ballarat Rebels, VIC C), 25. Jordan Ridley (Oakleigh Chargers, VIC M), 26. Josh Battle (Dandenong Stingrays, VIC C), 27. Oscar Junker (Western Jets, VIC M), 28. Griffin Logue (Swan Districts, WA), 29. Jack Maibaum (Eastern Ranges, VIC M), 32. Declan Watson (Aspley, QLD), 33. Todd Marshall (Murray Bushrangers, NSW/ACT), 34. Esava Ratougolea (Murray Bushrangers, VIC C), 35. Max Lynch (Murray Bushrangers, NSW/ACT)
EMERGENCIES: Parfitt, Morrish, Begley, Brayshaw, Ridley
Michael O'Loughlin Under 18s
1. Liam Baker (West Perth, WA), 2. Ben Jarman (North Adelaide, SA), 3. Kym LeBois (North Adelaide, SA), 4. Callum Brown (Eastern Ranges, VIC M), 5. Sam Petrevski-Seton (Claremont, WA), 6. Harry Morrison (Murray Bushrangers, VIC C), 7. Isaac Cumming (Broken Hill, NSW/ACT), 8. Oliver Florent (Sandringham Dragons, VIC M), 9. Cedric Cox (North Ballarat Rebels, VIC C), 10. Myles Poholke (Dandenong Stingrays, VIC C), 11. Jonty Scharenberg (Glenelg, SA), 12. Sam Walker (Glenelg, SA), 13. Mitchell Hinge (Glenelg, SA), 14 .Dylan Clarke (Eastern Ranges, VIC M), 21. Ben Davis (UNSW, NSW/ACT), 22. Willem Drew (North Ballarat Rebels, VIC C), 23. Will Brodie (Murray Bushrangers, VIC C), 24. Will Setterfield (Sandringham Dragons, NSW/ACT), 25. Jake Waterman (Claremont, WA), 26. Ryan Garthwaite (Murray Bushrangers, NSW/ACT), 27. Josh Rotham (West Perth, WA), 28. Jack Scrimshaw (Sandringham Dragons, VIC M), 29. Brennan Cox (WWT, SA), 30. Pat Kerr (Oakleigh Chargers, VIC M), 32. Zachary Sproule (Murray Bushrangers, NSW/ACT), 33. Sean Darcy (Geelong Falcons, VIC C),
34. Tony Olango (NT Thunder, NT), 35. Timothy English (South Fremantle, WA)
EMERGENCIES: Baker, LeBois, Morrison, Hinge, Darcy
SATURDAY'S TEAMS
Chris Judd Under 17s
1. Charlie Spargo (Albury/Melb Grammar/Giants, NSW/ACT), 3. Patrick Naish (Nth Knights/Ivanhoe, VIC M), 4. Jack Powell (Ainslie/Giants, NSW/ACT), 5. Jake Patmore (Claremont/Christ Church Grammar, WA), 6. Brendan Myers (Wagga, NSW/ACT), 7. Matthew Ling (Geelong Falcons, VIC C), 8. Jordan Johnston (North Ballarat Rebels, VIC C), 9. Lochie O'Brien (Bendigo Pioneers/South Mildura, VIC C), 10. Isaac Hewson (Norwood, SA), 11. Jack Petruccelle (Northern Knights, VIC M), 12. Hunter Clark (Dandenong Stingrays/Mt Martha, VIC C), 13. James Worpel (Geelong Falcons, VIC C), 14. Cameron Rayner (Western Jets, VIC M), 15. Dominic Grant (Wanderers/North Adelaide, NT), 16. Adam Cerra (Eastern Ranges, VIC M), 17. Paddy Dow (Bendigo Pioneers, VIC C), 18. Darcy Fogarty (Glenelg/Lucindale, SA), 21. Lachlan Pascoe (Norwood, SA), 22. Cody Henness (Gippsland Power/Sale, VIC C), 23. Sam Taylor (Swan Districts, WA), 24. Jarrod Brander (Geel Grammar/Wentworth/Giants, NSW/ACT), 25. Oscar Clavarino (Dandenong Stingrays/Berwick, VIC C), 32. Alex Paech (Walla Walla/Giants, NSW/ACT), 33. Nathan Richards (Griffith/Giants, NSW/ACT), 34. Brayden Crossley (GC Suns Acad/Labrador, QLD), 35. Tom De Koning (Dandenong Stingrays, VIC C)
Michael O'Loughlin Under 17s
1. Tyrone Hayes (Gippsland Power/Lakes Entrance, VIC C), 2. Aaron Darling (Dandenong Stingrays/Balnarring, VIC C), 3. Jack Higgins (Oakleigh Chargers/East Malvern, VIC M), 4. Lachlan Fogarty (Western Jets/Spotswood, VIC M), 5. Ethan Penrith (Northern Knights, VIC M), 6. Kane Farrell (Bendigo Pioneers/Eaglehawk,VIC C), 7. Aidan Quigley (Gippsland Power/Yinnar, VIC C), 8. Jack Clayton (West Juniors, QLD), 9. Joel Garner (Eastern Ranges/Wandin/Scotch Coll, VIC M), 10. Aiden Domic (North Ballarat Rebels, VIC C), 11. Jaidyn Stephenson (Eastern Ranges/Ferntree Gully, VIC M), 12. Andrew McPherson (Woodville West Torrens, SA), 13. Jackson Edwards (Glenelg, SA), 14. Changkuoth Jiath (Gippsland Power, VIC C), 21. Harry Simington (Labrador, QLD), 22. Kwabye Boakye (GC Suns Academy/Rockhampton, QLD), 23. Isaac Morrisby (Sandringham Dragons, VIC M), 24. Aaron Naughton (Peel Thunder, WA), 25. Toby Wooller (Oakleigh Chargers, VIC M), 26. Noah Balta (Calder Cannons, VIC M), 27. Thomas Schmusch (Woodville West Torrens/Port Districts, SA), 28. Nathan Kreuger (South Adelaide, SA), 32. Hayden McLean (Sandringham Dragons, VIC M), 33. Connor Ballenden (West Juniors, QLD) 34. Callum Coleman-Jones (Sturt/Unley, SA), 35. Sam Hayes (Eastern Ranges, VIC M)
The views in this article are those of the author and not necessarily those of the AFL or its clubs