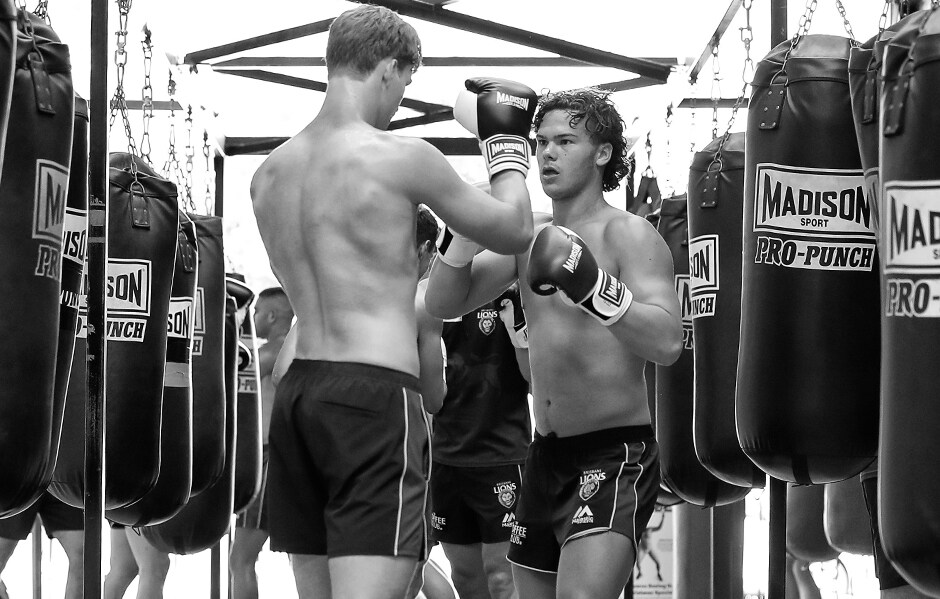 As Cam Rayner – the pre-ordained Lion King – boxed himself to exhaustion before Christmas, he was reminded of what is necessary if he is to realise his vast potential.
The dux of the 2017 draft class and supposed second coming of Brownlow medallist Dustin Martin has his flaws, like everyone else.
Even as recruiters frothed over Rayner's package of speed, power and explosiveness in his draft year, they also queried his running ability, which remains a work-in-progress.
A promising debut AFL campaign, where he played every game, kicked 20 goals and found himself in position to win games off his own boot, only fuelled the hype about Brisbane's young gun.
But often forgotten is that this is a 19-year-old kid still learning the caper.
"I came back and wasn't in great shape after the off-season. That was my first break," Rayner told AFL.com.au with a sheepish grin.
"I've got back down to 91kg now and I'm pretty comfortable there.
"I was playing at that (last year) and towards the end I got a little bit heavier, but I'm aiming to stay around 90-91kg this year."
View this post on Instagram
Rayner whipped himself into shape with four gruelling boxing sessions a week, plus regular discussions with Club dietitian Pip Taylor, who encouraged him to cut out full-cream milk and bread.
"My second pre-season was a lot harder than my first one," he said.
"This year I feel as fit as I've ever been and (I'm) getting to contests a little bit easier and still having a little bit left in the tank, which I never really felt in my junior career.
"I guess that's what the pre-seasons do for you, but it's exciting. If I get a couple more pre-seasons under my belt; maybe I'll be a full-time midfielder – but we'll just see what happens.
The AFL's new 6-6-6 starting positions have helped kick-a-long that goal, Rayner says, with teams expected to mix up their centre-square dynamic more.
Coach Chris Fagan agrees and lists him among the speed demons he plans to unleash in the middle in 2019 as the Lions try to put a decade of mediocrity behind them.
"He's a power athlete and is great around stoppages, so we need to get him to as many (of them) as we can, but also keeping those attributes for forward-line play as well," Fagan told AFL.com.au.
"He's fitter this year than he was last year, because this is his second pre-season and he knows a bit more about preparing for AFL football.
"But it will be a gradual increase in his midfield minutes rather than a sudden explosion."
Rayner, who is contracted through the 2021 season, also continues to embrace the external pressure on him to become the Club's next big star.
Being the No.1 draft pick has proven crippling for others, but the teenager believes being somewhat hidden away in Brisbane has helped.
Carlton's Sam Walsh, the newest top selection, hasn't enjoyed that same benefit and his strong start has sparked all sorts of hyperbolic media coverage.
"It's not too bad. It was probably a bit more full-on the first year, (but) as you get into your second and third year there's a new No.1 draft pick and the attention goes to him," Rayner said.
"But I think it's just something you have to get used to.
"It kind of brings out the best in me, I reckon. It adds a bit more nerves and turns into a bit more energy and you kind of just thrive with that."
The views in this article are those of the author and not necessarily those of the AFL or its clubs