Eight years less 52 days ago today Dayne Zorko faced his footballing moment of truth.
It was Saturday 18 June 2011 when, as a member of the Queensland side, Zorko took on Western Australia at Mandurah, south of Perth.

He was 22, had won the Broadbeach B&F award four years in a row, and was widely regarded as the premier player in Queensland domestic football.

But he had been overlooked in the AFL draft four years in a row. He was running out of time.

Having attended Benowa State High School on the Gold Coast and played his junior football at Surfers Paradise, Zorko had captained the 2007 Queensland U18 side coached by ex-St.Kilda and Brisbane Bears rover Danny Craven.

State teammates Brendan Whitecross, Sam Reid and Jake Spencer were drafted in 2007 by Hawthorn, Western Bulldogs and Melbourne respectively to begin lengthy stints in the AFL. Reid is still playing with the Giants.

Joey Daye, Rhys Magin, James Mulligan and Adam Spackman, also members of Zorko's Queensland U18 side, had short AFL stints with Gold Coast, Essendon, Western Bulldogs and Brisbane respectively. But Zorko missed out.

It was now or never. Was he going to be a very good State footballer, or an AFL footballer?
In all probability this was to be his last chance to crack it for an opportunity in the big-time.

Rob Kerr, Brisbane Lions' list manager at the time, flew west specifically to watch Lions rookies Niall McKeever and Joel Tippett play for Queensland and came home with a clear-cut "get Zorko" commitment.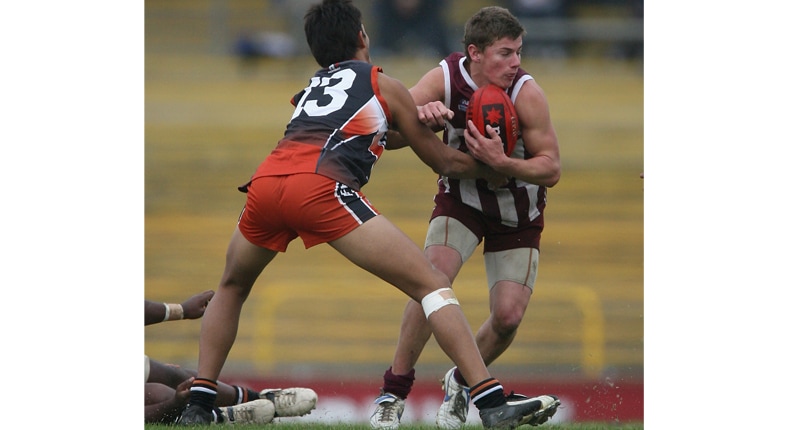 Zorko won the Zane Taylor Medal as Queensland's best player in a fighting six-point loss to WA, collecting 30 possessions to go with eight tackles and four goals, including three goals in a barnstorming final quarter that almost got the visitors over the line.

Kerr was convinced, but there was a sticking point. Zorko, a born-and-bred Gold Coaster, was zoned to the Gold Coast Suns under the AFL's expansion guidelines. He was technically a Suns player if they wanted him.

Kerr, refusing to let the chance slip, initiated a complicated trade that effectively saw the Broadbeach captain join the Lions in exchange for selection #34 in the 2011 AFL National Draft.

It was all that was needed for the one-time bricklayer, whose father had moved from Yugoslavia to Melbourne before settling on the Gold Coast.

The football grapevine said Zorko, at 175cm, was too small despite being only 2cm shorter than North Melbourne's AFL games record-holder Brent Harvey, but he refused to take any notice.

Still, there was work to be done. He arrived at the Lions for the start of the 2012 pre-season with osteitis pubis, and after an extended spell in rehabilitation missed the first six games of his first season.

But after his debut at age 23 in Round 7 against Collingwood at the Gabba he never looked back.
He played 59 consecutive games, including a full season in 2013, before missing the final match of the 2014 season for personal reasons. His father was seriously ill.

He played every game in 2015, missed one in 2016 through suspension and one due to the birth of his first child, and one in 2017 through suspension. He played every game last year and has played every game this year.
That's 149 of a possible 153. And never has he missed through injury or non-selection.

Tomorrow, against the Gold Coast Suns at Metricon Stadium, he will play his 150th game.
Having been born two years after the birth of the Brisbane Football, and grown up not far from their original home at Carrara, he will be the 26th player to reach this milestone.

In chronological order, with the round and year of each milestone, It is a Brisbane Lions who's who.
150 Games
Order
Player
Rd/Yr
1

Roger Merrett

5/96

2

Marcus Ashcroft

QF/96

3

Richard Champion

16/98

4

Matthew Kennedy

3/99

5

Shaun Hart

13/99

6

Darryl White

19/99

7
8
Nigel Lappin


Michael Voss

SF/00

9

Chris Scott

4/02

10

Jason Akermanis

10/02

11

Justin Leppitsch

12/02

12

Craig McRae

18/02

13

Alastair Lynch

PF/02

14

Chris Johnson

12/04

15

Simon Black

PF/04

16

Daniel Bradshaw

13/05

17

Luke Power

18/05

18

Tim Notting

16/06

19

Jonathan Brown

12/08

20

Ash McGrath

16/10

21

Jed Adcock

9/13

22

Joel Patful

12/13

23

Daniel Merrett

20/13

24

Daniel Rich

7/17

25

Tom Rockliff

19/17

26

Dayne

Zorko

6/19
Unwanted by the Gold Coast, Zorko sits more than comfortably among this Brisbane all-star group.
Indeed, with four consecutive club Merrett/Murray Medal, he ranks behind only the legendary Michael Voss, a five-time winner. And he is ahead of three-time winners Simon Black and Jonathan Brown.

The pocket-sized dynamo has been remarkably consistent in the club's No.1 individual award. Before winning it outright in 2016-17-18, he finished equal 7th in 2012 despite missing the first six games, equal 4th in 2013 and was runner-up in 2014 before sharing the award with Dayne Beams, Stefan Martin and Mitch Robinson in 2015.

Ranked 16th on the club's all-time goals list with 162 goals in 149 games, he will be the 10th player to reach the 150-150 double, behind Voss, Black, Brown, Akermanis, Power, Lynch, Bradshaw, McRae and McGrath.

All-Australian in 2017, he ranks eighth in all-time Brownlow Medal votes for the club with 47 behind Black (184), Voss (150), Brown (112), Lappin (93), Akermanis (91), Power (68) and Rockliff (68).

And, he ranks 14th in career possessions for the club with 3174 despite playing fewer games than each player ahead of him – many of them significantly so.

Leading the all-time possession list is Black (7580) from Voss (6143), Lappin (5911) Power (5884), Ashcroft (5848), Akermanis (4817), Hart (4522), Rockliff (4075), Brown (3696), Rich (3689), Adcock (3604), Chris Scott (3563) and White (3516).
It has been one superb achievement after another, and he hasn't let the trivia buffs down either.

Tomorrow the Lions skipper will become just the fourth player in VFL/AFL history whose surname starts with "Z" to play 150 games.
"To get to 150 games is an achievement that I'm really honoured and really privilege to reach. I'm rapt."

Hear from the skipper ahead of #Zorko150: https://t.co/GdjkypDltp pic.twitter.com/hawD53sRjV

— Brisbane Lions (@brisbanelions) April 26, 2019

Heading the list in the "Z Brigade" is North Melbourne captain Jack Ziebell (193) and Essendon's David Zaharakis (191), while ex-West Coast, Brisbane and Fitzroy defender Mark Zanotti (157) ranks third and is set to fall to Zorko this year.

Also in triple figures are Shane Zantuck, who played 149 games with North Melbourne, South Melbourne and Melbourne from 1974-86, Denis Zeunert, who played 110 games for Carlton from 1954-60, and Eric Zschech, who played 102 games for Richmond from 1930-35.
Note: Official AFL records show that three other players whose surname started with "Z" have played for the extended Brisbane/Fitzroy family in addition to Zorko and Zanotti, who played 64 games for the Bears from 1989-92 and 57 games for Fitzroy from 1993-95. Cyril Zimmer played one game for Fitzroy in 1918, Bruno Zorzi played 18 games for Fitzroy from 1957-60, and Noel Zunneberg played 71 games for Fitzroy from 1967-72.