Meet Brisbane's odd couple.
One is 21 years old, the other 30.
One is clean-cut, the other a little rough around the edges.
One plays with a grace in space, the other more bash-and-crash.
But as a combination, they're playing the wing role as well as any duo in the competition.
They are Hugh McCluggage and Mitch Robinson.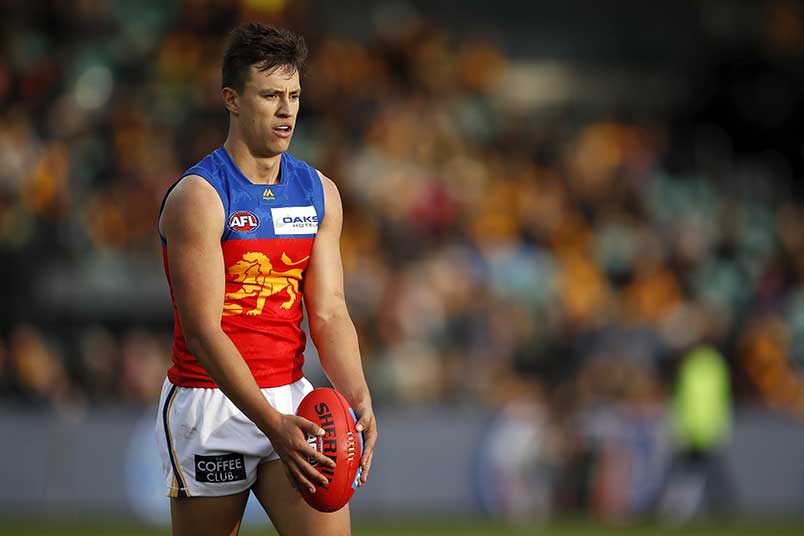 McCluggage spent all of 2018 on a wing, but for Robinson it's totally new, a Chris Fagan masterstroke that has seen the Lions' wrecking ball play the most consistent football of his 11-year career.
Between them they have kicked 37 goals and proved an integral part of the Lions' unlikely surge towards September.
"Wingmen are real stoppage players," Fagan told AFL.com.au. "You need wingers that can play strong footy on the inside and I thought that was Mitch.
"They're the most complex of all the positions to play, because you're involved in most structures at most times."
Through a combination of good management and good luck, Brisbane's lack of injuries has allowed Fagan to keep McCluggage and Robinson fixed to the wings.
And they've thrived, ranking one and two for that position in the AFL Official Player Ratings.
Their lockers are adjoined, but that's where the similarities end.
As the third pick of the 2016 NAB AFL Draft, big things were always expected of McCluggage, but the leap he's made this year has been jaw-dropping.
If the All Australian selectors pick pure wingmen, he is right in the frame.
Not only is his ball-use by foot damaging, but McCluggage has kicked 21 goals – more in a single season than noted wing specialists Josh Kelly, Andrew Gaff and Brad Hill ever have.
"He's always trying to improve himself," Fagan said.
"He's improved his running ability, he's stronger, he's more comfortable with his role after 18 months and he feels more comfortable at AFL level."
His goal against North Melbourne in round 18, where players seemed to stand still as he burst from congestion, was a prime example of how McCluggage makes the difficult look easy.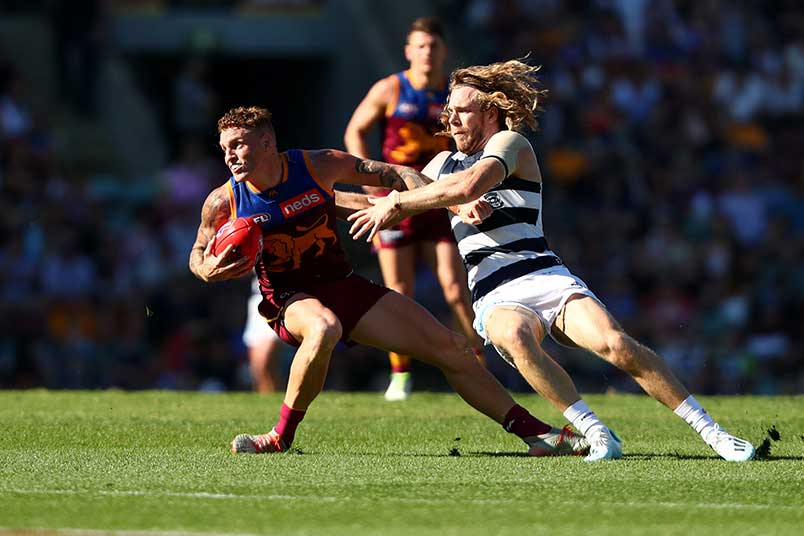 Then there's Robinson.
A fan favourite around the league, his story of resurrection has been well-told, but it's worth remembering that as recently as February, the feisty Tasmanian was in the Lions' 'B' team in intraclub matches.
He worked hard, surpassed Tom Cutler and Ryan Bastinac and found a home in the best team.
Recently rewarded with a two-year contract extension, Robinson is averaging 21 disposals and has kicked 16 goals.
He's more sledge-hammer than a chisel, but he does what his coach asks (aside from giving away the odd 50m penalty!) and his teammates walk taller when he's on the field.
"He always gives 100 per cent effort and he brings energy, voice, encouragement and enthusiasm," Fagan said.
"And some of the things he does are quite inspirational, he's courageous and desperate."
They're an unlikely duo, but every bit as important to Brisbane's success as a Lachie Neale clearance, a Dayne Zorko goal or a Harris Andrews intercept mark.
And while Fremantle's combination of Hill and Ed Langdon, West Coast's of Gaff and Dom Sheed and Hawthorn's of Isaac Smith and Ricky Henderson have all had wonderful seasons, none is playing better than the Lions' version of chalk and cheese.