Nigel Lappin will go down in history as one of the toughest players to pull on the Brisbane Lions guernsey.
In the 2003 Grand Final, Lappin played with two broken ribs and a punctured lung and was still one of the Lions' best.
Lappin had been battered and bruised in the Preliminary Final the week before against Sydney.
"I remember a lot of the guys had to fight tooth and nail to make sure we got there (the Grand Final)," Lappin told lions.com.au as part of their Premiership Pride series.
The Lions did get there, but at a cost.
Lappin was desperate to play his third consecutive AFL Grand Final but would have to pass a brutal Leigh Matthews 'fitness test' which involved being spear tackled on the side of his body multiple times while attempting to mark the ball.
"It was a difficult week. We tried to keep it as quiet as we could. There was a fair bit of media around and a fair bit of speculation about the injury," he said.
His cover was blown when Jason Akermanis revealed all at a press conference in the lead up to the Grand Final.
"In some ways, to be honest, that took the pressure off," Lappin admits.
"I'll do my best to get up for the game and I'll take it from there."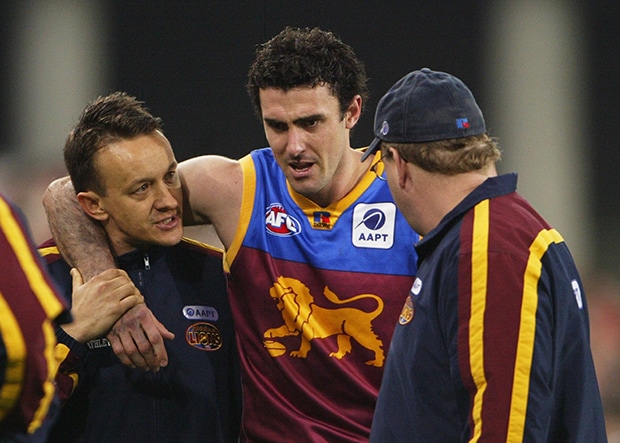 A rib guard proved to be his saving grace to be granted a spot in the final team.
"I remember having a fitness test with the physio before they started the game and he punched me a few times in the ribs without the guard on and that hurt a little bit but when I had the guard on I was fine," he said.
Thanks to Aker's intel, Collingwood players gave Lappin extra attention throughout the afternoon. But Lappin managed to brush them off.
"I played a different role than I normally played. I played across half back that day," Lappin said.
"Leigh always drove with us, it doesn't matter what role that you play or the role we want you to play, just accept it and play to the best of your ability."
It was during the fourth quarter that Lappin knew they had created history and sealed their third straight premiership.
"It's very rare in sport that you have that blissful period where you have 20-25 minutes where you know you're going to get the result," he said.
Incredibly, Lappin played through the pain for the whole game and would earn the highest respect from his teammates.
For him, sharing the war stories with teammates in the rooms after the game is a moment he holds dearly.
"We made a habit after the Grand Final of sitting together and talking to the teammate that was sitting next to you and telling them what they mean to you and why you really appreciated your role in the team."
Previous episodes of the Premiership Pride:
Episode Three: Marcus Ashcroft