Throughout September, lions.com.au will be reviewing the seasons of all members of our current playing group. Today we look at the year that was for Sam Skinner, Dan McStay and Tom Cutler.
#21 - Sam Skinner
Sam Skinner completed one amazing comeback story in 2018.
After experiencing almost every high and low of professional sport in his past three years, Skinner travelled to Philadelphia in March to visit world-renowned reconditioning expert Bill Knowles as he underwent his third rehab for a torn ACL.
Resilience and determination saw the 20-year-old make his long-awaited return to football in June, running out onto the Gabba in the NEAFL against the GWS Giants in Round 12.
Skinner went on to play 10 NEAFL games for the season, averaging 14.6 disposals and 5.2 marks per match.
One of his best performances came during the elimination final against Aspley. Skinner was desperate in defence, toiling hard with his defensive marks and spoils to be named amongst the Lions' best on the day.
Skinner's aggression in defence was a great addition for the Lions NEAFL side in 2018.
As he looks forward to a full pre-season ahead, Lions fans will be excitedly waiting to see what this determined Lion can achieve in 2019.
NEAFL matches: 10
#25 - Dan McStay
Kicking accuracy tormented Dan McStay in the first half of this season as the versatile tall failed to make an impact in front of goal under pressure.
McStay returned to the NEAFL side for two matches to work on his accuracy. Lions coaching staff also enlisted the services of world-renowned performance coach Dave Alred to work closely with McStay.
Results came quickly.
McStay showcased his best performance of the season playing up forward against North Melbourne at Etihad Stadium. His Round 11 effort saw him collect eight marks, three tackles and an incredible Mark of the Year nomination for a hanger over the back of his opposition.
The 23-year-old's versatility both up forward and down back has been a coaches dream. However, McStay played a majority of his season in the Lions' forward line alongside Oscar McInerney and Eric Hipwood in a triple-threat of talls.
Entering his sixth season at the Lions in 2019, McStay will bring both experience and confidence to the team as he continues to develop his game.
Senior matches: 19, NEAFL matches: 2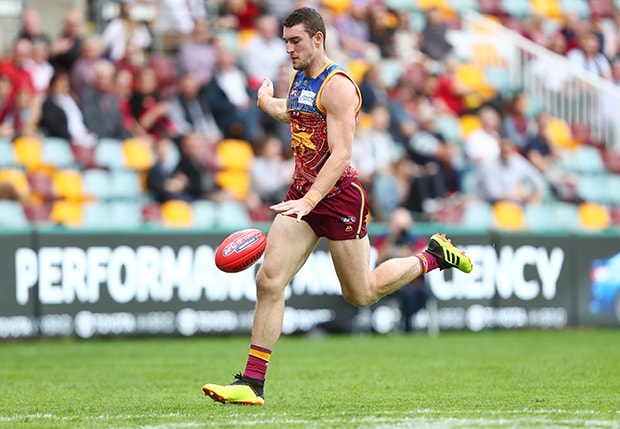 #26 - Tom Cutler
Tom Cutler showed significant growth in 2018, producing a number of career-best performances and becoming a favourite amongst Lions fans.
Remarkably, Cutler wasn't considered in the Lions' best 22 during pre-season and the first couple of games of the year.
When he was a late inclusion into the Senior side for Round 3 against Port Adelaide, he impressed with 21 disposals and a goal.
Cutler reached his first milestone match early in the season, celebrating his 50th game for the Club against Collingwood at the Gabba.
The midfielder delivered his best effort in the Lions' 65-point victory over Carlton when he finished with a season-high 28 disposals, two goals and a career-best 14 marks.
His Round 18 effort against Adelaide saw the 23-year-old make a career-best five tackles in an electric performance on home turf.
Unfortunately, he was later charged for rough conduct during the match and missed the following two matches with a sanction for careless contact.
Cutler averaged 20.4 disposals and 6.5 marks per game. His ability to take a mark stands amongst the League's elite according to AFL statistics, averaging 6.5 marks per match.
Senior matches: 18