The Brisbane Lions last week played host to the sons of some of the Club's most decorated players. For Chris Johnson, the introduction of the father-son program has been of significant benefit to both of his sons, and the sons of his former teammates.
"It's really been a good insight for the boys, especially for Lachlan Harris who is coming into his draft year," said Johnson.
Casey Voss - the son of champion midfielder Michael Voss; Lachlan Harris – son of Fitzroy's Leon Harris; Jake Bradshaw - son of 222 game Bears/Lions player Daniel; and brothers Lachlan and Preston Johnson - sons of Chris Johnson, were just some of the players to visit the Lions with the hope that the Club will draft them as future father/son prospects.
"For my Lachie, Lachie Johnson – it's just an introductory level for him and a good opportunity to see what it takes to make it as an elite footballer."
"Just being around the father-son boys and meeting some of the players as well, it's been great for Preston, and Lachlan has just soaked up every bit of information he's been given."
The seven-man group trained with the Hyundai Help for Kids Lions Academy squad on Tuesday and Thursday nights.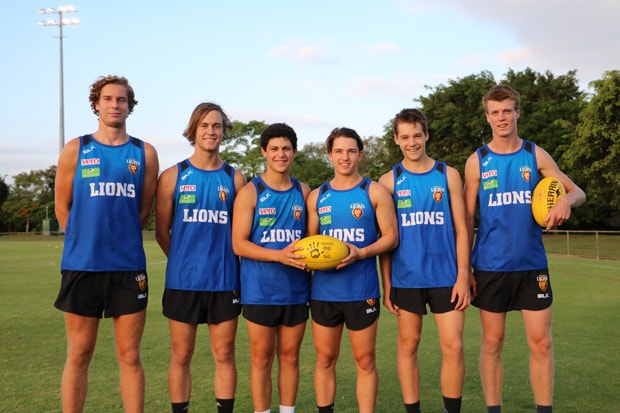 Photo (L-R): James Rendell, Jake Bradshaw, Lachlan Johnson, Lachlan Harris, Casey Voss & Nick Blakey at Hyundai Help for Kids Lions Academy training.
They also attended Lions training on Wednesday afternoon where they shadowed new Lions coach Chris Fagan for the session. Daniel Bradshaw, Leon Harris, Chris Johnson and Donna Voss (the wife of Michael) were among the interested on-lookers.
"It's always good to come back, I feel like the Club always opens its doors for us and welcomes us with open arms," said Johnson.
Johnson said that, based on early signs, he was impressed with the players' enthusiasm on the track.
"They look very fresh and very fit. They look like they're up and about which is a great thing.
"Chris (Fagan) has come in with a new game plan and I think we'll see some progressions this year, certainly moving forward. Hopefully we can get a few more wins than what we did last year. I'll be along to most of the Melbourne games and might get up for one or two games here in season 2017."