Monday, February 1, 2016
JARROD Berry was 15 and had just finished training at the Horsham Saints' football oval in western Victoria. Every night after training during that 2013 season, Berry – with his dad Troy, younger brother Thomas and older brother Joel – would go home via Horsham Hospital (or "the hossy", as they called it) to visit his mum, Jedda. Their final visit would be on a July evening.
Jedda had been diagnosed with breast cancer eight years earlier, after discovering a lump after Christmas holidays in 2005. Her fight included a mastectomy, which the family hoped would be the end of the illness. But after shifting 75 kilometres south-east, from Nhill to Horsham, Jedda discovered the cancer had spread to her bowel, and then into her bones. The family was told to prepare for the worst.
Jarrod Berry (l) with mum Jedda, dad Troy and brothers Joel (r) and Thomas. Picture: supplied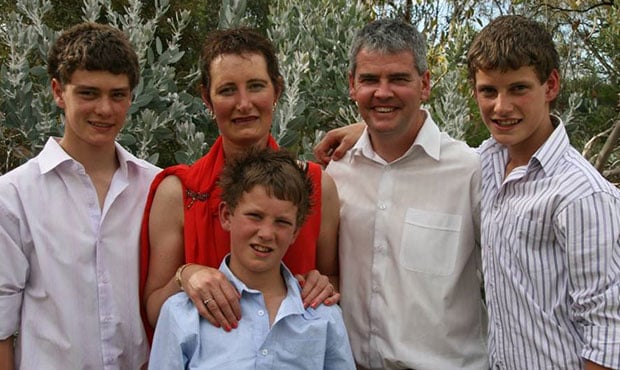 Berry and his family could see Jedda's health quickly deteriorating in the middle of 2013, and they treasured every moment with her. Berry's last night with his mum sticks in his mind.
"She was high on painkillers, and they were the only thing really keeping her going," he says. "We went into the 'hossy' and she was absolutely loving us all being there, loving the people around her.
"She actually didn't realise I was there standing next to her bed, but then she turned around and said, 'Oh Jarrod you're here!' and everyone laughed.
"It's my last real memory of mum, and all our family and a couple of our close friends were there as well. That's who she was – a warm and happy person who people wanted to be associated with."
The following day, in late July, Jedda passed away peacefully. Jarrod and his brothers had a day off school, and he remembers his dad Troy coming home to deliver the news. They stood together in the loungeroom and shared an emotional hug as they processed the devastating moment.
"The hardest thing for me was seeing mum in such pain. I couldn't do anything to help," Berry says. "In the end, and I know it's bad to say, she's in a better spot now. She's pain-free and not suffering."
Learning from loss
Berry says he will forever be shaped by time spent with his mum, and also by her loss. This year, which the North Ballarat Rebels prospect starts as one of the highly rated AFL draft prospects, Berry has a different perspective on life and football to many of those around him.
Before her illness, Jedda was a teacher. But with three boys to look after and Troy working long hours, Jedda mostly stayed at home and was a relief teacher when required. It suited her family life: they lived only 50 metres from the local primary school, but Jarrod enjoyed his sleep and would often need to be dragged out of bed at 8.45am to make the 9am start. "I was always ready to rock and roll by nine o'clock," he says.
Brothers in arms. Picture: supplied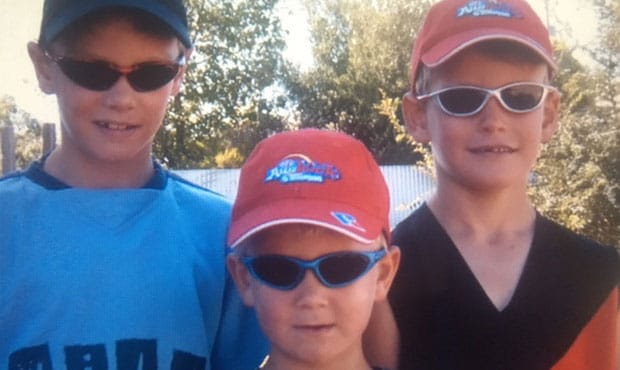 But seeing his mum sick made Berry and his brothers (Joel, who is two years older and Thomas, two years younger) grow up faster than their peers. When she was first diagnosed, Berry had to interrupt his morning PlayStation session to be told his mum had cancer. He didn't know what that was or what it meant, but started crying when his dad started crying.
During her treatment, Jedda had to drive from Horsham to Adelaide for weekly chemotherapy and radiation sessions, leaving more to be done at home. The boys had to take on more responsibility when she was away. "A thought started to come into our minds that in the future, we might need to fend for ourselves without mum," he says. "We had to prepare ourselves for that, even though nothing can prepare you for it."
The boys saw their mum travel to Germany twice to get special treatment only available there, and saw her return intent to do anything to rid herself of the disease. There were everyday things she struggled with, like driving to the local shops, and other things she missed out on, like junior sporting events or school activities.
But Jedda wasn't prepared to give up. "It might have been drinking potions or doing yoga or getting involved in spiritual stuff – if she thought it might help, she tried it," Berry says. "I'll never forget how hard she tried."
The Berry brothers grew up in Horsham, four hours west of Melbourne in country Victoria. Picture: supplied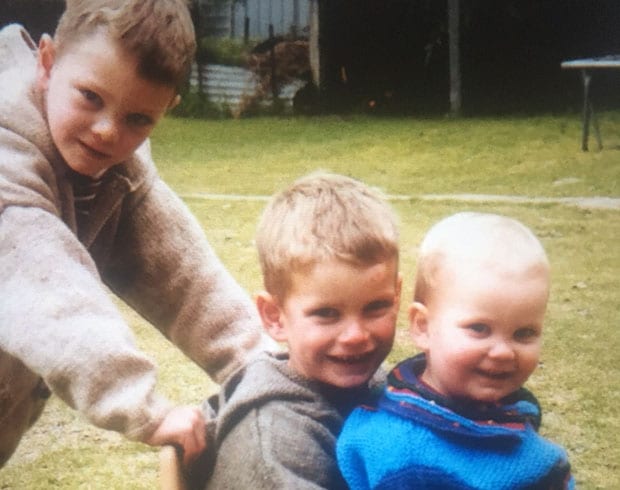 Berry and his brothers also saw the impact their mum's fight had on their dad. He noticed Troy's demeanour change as Jedda's health worsened. He has also seen him emerge from the grief to again enjoy life with his sons.
"Losing your soul mate and wife is a pretty huge thing to go through, but I think he still sees mum live on through us. The way he coped was just to look after us, and that's what he does best," Berry says.
"We have values in our family that nothing comes before each other. We still talk about her and the fun things we did, but it's not something you want to bring up in conversation all the time because it can get upsetting. But if you look at our phones, we've all got a picture of our family as the background photo."
Mum Jedda's fight with breast cancer took a toll on the entire family. Picture: supplied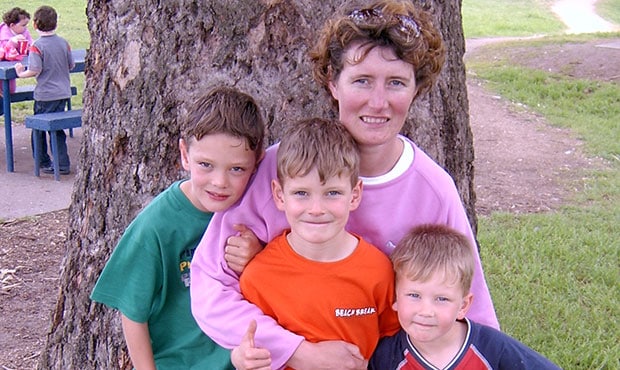 Berry has also come to appreciate how Jedda dealt with the illness in front of him and his brothers. She tried to keep things as normal as possible. He looks back on that now and realises how difficult that must have been.
"You don't want to remember your mum as being ill, but I was so young when she did get the illness that it's built into my life and into my memories of her," he says.
"I always get flashbacks to a picture we have of mum at one of her sister's weddings, and she was all dressed up and had curly hair. I think of her smile. She was holding Joel, I think, and it's a happy thing to remember.
"You can't really help what you remember, and there are things that stick in the mind when she was suffering and we missed out on some of those memories. But the times when she was sick it didn't really affect her mood around us. She was always mum and always will be."
Nothing comes easy
By 13, Berry had already started showing signs of his football potential. He had been picked in the Victorian under-12 side, was athletic and tough. But he still needed to be pushed along, and him mum was the one to do it. In his early teens, Jedda got him out of bed each morning at 7.30, when he'd go outside and do an hour of work on the boxing bag. He'd then use the chin-up bar installed at the back of the house, followed by some weights before breakfast.
"Mum showed me nothing comes easy," he says. "Even when she was in hospital, she used to text me or find a way to keep me accountable and not lose sight of what I was working towards."
Berry was working towards an AFL career from a long way out. Now it doesn't seem so far away. Last year he was named All Australian after the under-18 carnival as a bottom-ager playing for the winning Vic Country line-up across half-back. And last month he trained in the United States with the NAB AFL Academy squad. He starts his draft year with plenty of goals to achieve, but knows nothing will be handed to him.
"If what's happened the past few years has taught me anything, it's that you have to go out there and make it happen for yourself."
Sunday, April 30, 2016
THERE wasn't a sport Jarrod Berry didn't try as a child. He was involved in local athletics and cross-country meets, played tennis and cricket, and enjoyed swimming. He was also a talented basketballer, playing alongside Darcy Tucker, who was drafted by Fremantle last year from Horsham. "I used to be the blocker for Darcy. The game plan in basketball and footy was to give the ball to him and let him do the rest," he says.
When Berry's family went on its Easter camping trips on the Murray River, they water-skied and that, too, became a contest between him and his two brothers.
The three brothers now live near each other in Ballarat. Picture: supplied

The trio was rough and ready. Jarrod and older brother Joel often used to race on their bikes around the block with their mum trailing them. One time, Joel was well ahead and stuck his arm out as a five-year-old Jarrod came hurtling around the corner, smashing his two front teeth out.
"I didn't have teeth for more than a year. I was a rough-looking kid," he says.
"I didn't wear a mouth guard for a while because I had nothing to knock out, so I wasn't too popular with the ladies."
Jarrod carried the nickname 'The Croc hunter' as a child, an ironic dig at his courage after he fled a beach when a large crab emerged from behind a rock.
But there was never much doubting his aggression on the football field. He idolised Essendon goalkicking champion Matthew Lloyd, to the point where he pulled his socks up, threw grass in the air when he had a shot at goal and even styled his hair in the same way as a kid.
"We went through lots of gel at home," he says. His obsession with Lloyd started a run where he would follow teams because of players. Now, he counts himself a Greater Western Sydney supporter (his former Rebels teammate Jacob Hopper was a top-10 draft choice there last year).
Joel was the first of the three boys to move to Ballarat, before Jarrod made the shift from Horsham at the start of 2014 to board at Clarendon College. He was ready to move earlier, but believed he should stay with the family as they dealt with the passing of their mum. Thomas, the youngest of the brothers, moved earlier this year and is also a promising footballer in the Rebels' under-16s squad.
While Jarrod and Thomas board at Clarendon, Joel, an apprentice electrician, lives in the family house five minutes from the school. Most weekends, Jarrod and Thomas stay with Joel. Sometimes they help with the cooking, or they lounge about, strumming a guitar and taking turns on the PlayStation.
"In my early days I probably clashed a bit more with Joel but got along really well with Thomas. Now we're as close as anyone could be, so it's worked out well that we're all in Ballarat together," Jarrod says. "It's been really good to be able to spend quality time with my family."
A leader in the making
Things have started to get busy for Berry, however. After overcoming the shoulder injury that ruled him out of the North Ballarat Rebels' finals series last year, he enjoyed a strong pre-season and was named captain of the Rebels for this season.
He led the Rebels out in round one against the Geelong Falcons and kicked two goals from 15 disposals, but wasn't rapt in his start to the season as his side went down by 28 points. He received plenty of close attention, and gave away an important 50-metre penalty. "It was stupid and unnecessary," he says.
Berry skippered the North Ballarat Rebels this season after overcoming a 2015 shoulder injury. Picture: supplied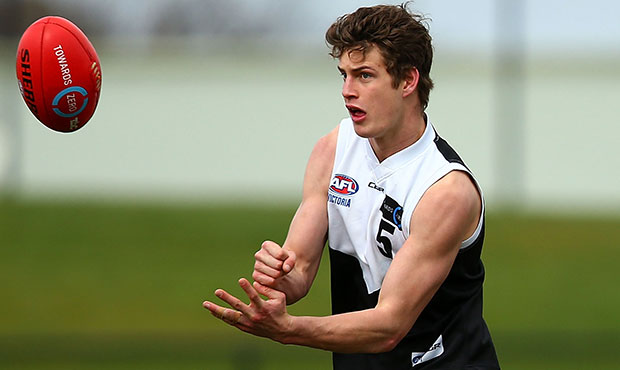 The following week, Berry was at the national academy's two-week camp in Melbourne. He was again recognised for his leadership, being named skipper of the side that played on the MCG against Werribee's VFL side.
"Not many people get the opportunity to captain their country as an 18-year-old, so I was stoked about that. It was daunting, to be honest, to walk up the race and see the stadium," he says. "It was a special moment."
He played well without being terrific, and the following week met recruiters from AFL every club in 10-minute interview slots. The consistent feedback from the scouts was their preference to see Berry move into a midfield role, something he already had on his mind. They also suggested his kicking needed refining, which he has already committed to doing. He didn't get sick of everyone telling him the same thing, believing if the feedback is consistent, it must have some basis.
"I like to see myself as an attacking player who can break the lines and really be damaging with my long kicking, but my kicking does need some development," he says.
"At the moment I'm probably seen as that half-back given my season there last year, but I'd like to move into the midfield and use my traits in there. We'll see how we go."
Berry, right, in action for the NAB AFL Academy. Picture: supplied

Berry was hoping for a bigger impact in the Academy's second game, against Geelong's VFL side at Simonds Stadium. But his plans were thrown when he received a call on the morning of the game from his father, Troy. His uncle, Tracy Wilson, had died during the night after a short battle with cancer. He was a first cousin of Troy, and very close to Jarrod, having always travelled to Warrnambool with the family during summer holidays.
"It was pretty raw when dad called to say he had passed away. I was battling emotionally all game," he says.
"We went to see him during the Easter holidays and he was deteriorating very quickly, and even though you don't like to, you come to expect something is going to happen. I was a long-distance runner when I was a young fella and he loved his athletics, so we used to go for runs along the beach and we had a great bond. It was a really tough when I found out."
Berry ran onto the field "hell-bent" on having a big game as a tribute to his uncle, but felt he lost focus through the second half as his concentration wavered. At three-quarter time, Hawthorn star Jarryd Roughead, who was helping the Academy as a specialist coach, put his arm around Berry and told him to worry less and keep his football simple. At the end of the game, in the middle of Simonds Stadium, Berry and his dad embraced for a long hug before he headed for the rooms.
Berry gets a kick away for Vic Country in the NAB AFL Under-18 Championships. Picture: supplied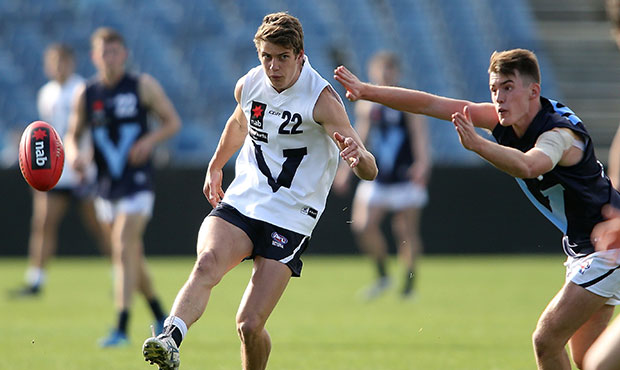 Between Academy games, the group of 35 draft hopefuls received a visit from Geelong superstar Patrick Dangerfield. The former Geelong Falcons player and top-10 draft pick spoke to the players about his under-18 season, sharing his thoughts on how to handle the pressure of the next seven months. Berry has already found himself thinking about how other people view him, so the advice was timely.
"(Dangerfield) said his under-18 year of footy was the most enjoyable of his career, because he was able to have fun and play with his mates without too many stresses," Berry says.
"You do have to enjoy things otherwise they'll fly past and you'll go back and think, 'Why didn't I enjoy myself then?' It struck a chord with me.
"I've changed my phone background to a photo that says, 'Enjoy yourself' with a surfer in the middle of a wave. It's a bit corny, but oh well. It's just a little reminder to have a bit more fun, which I'm going to try to do for the rest of the season."
NEXT: Dumb courage: Jarrod Berry learns to curb his enthusiasm
Trending Draft News:

This year's Mr Fix it

Ainsworth: Make me a Lion