Andrew Crowell has a distinct memory as a young man walking around Adelaide airport aimlessly. He was 26 years old and recently delisted after playing 44 games for the Adelaide Crows in four seasons.
"I'd flown a fair bit when I was playing but never had to book a flight or check in for myself. When I finished playing AFL I had to catch a flight. I had no idea how to book a ticket and when I got to the airport I didn't know where to go," he said.
It's a stark contrast to the man he is now.
Each day he is helping young men navigate their life in his role as Head of Personal Excellence and Wellbeing at the Brisbane Lions.
"What we're trying to do is build really strong, independent young men," he said.
Crowell grew up on a farm in a town called Price on the Yorke Peninsula in South Australia.
His family and community lived and breathed football. His father Bevan had been an exceptional player when he was younger, but never went professional because the responsibility of the land proved too great.
But when it came to his son, Andrew, he wanted him to go for it.
Crowell made his league debut for the Woodville West Torrens Eagles in the SANFL competition in 1997 following a premiership in the under 19's the previous year. He would commute from the farm to play in Adelaide, and later moved to the big smoke and worked as a bank teller so he could commit further to his football.
Each year he was hopeful of going professional, but three drafts had gone by and nothing had happened
He was close to throwing in the towel when he received an unexpected call from the Crows in late 1999. They wanted him to train with them in the pre-season.
He'd been having some fun in the SANFL off-season and had a bad case of bronchitis. But he showed up for the first session of the year.
"My first session with the Crows was a six-kilometre run and a nightmare," he said, laughing recalling the memory.
"I struggled badly through it and pretty much fell over the line."
The next morning, he woke up to find himself on the back page of the Adelaide Advertiser with a photo of him lying on the ground in a world of pain with a sports trainer standing over him. The headline read "Crows hopeful crashes in first run."
In hindsight, it was probably the first indication of this intense world of AFL that would soon await him.
Despite the humiliation, Crowell kept turning up to training and some weeks later received another phone call. It was Crows Coach Gary Ayres.
"Ayres said 'we've drafted you and we literally didn't think you'd roll up after your first training session'."
He was taken with pick 12 for Adelaide at the 1999 Pre-Season Draft. At the age of 22, a childhood dream had been achieved.
Crowell playing for Adelaide in 2001 against Geelong.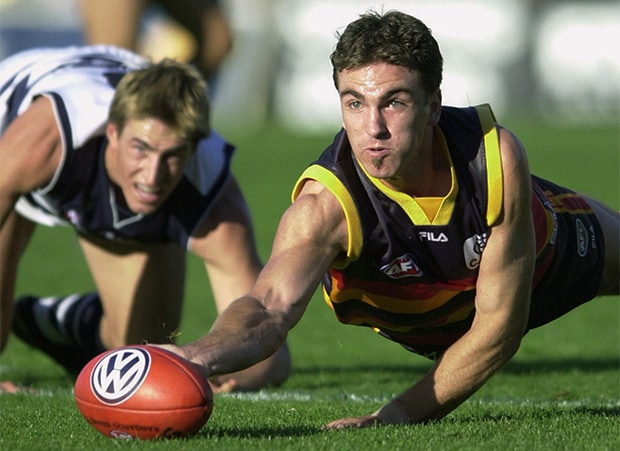 "It wasn't what I expected," Crowell admits.
"Stepping into an environment where it was just completely professional. Not just while you're at the club but when you're away from the club as well. That's where I probably struggled, trying to adjust to that 24/7 lifestyle of an AFL player."
He loved the Club and the people that came with it but the intensity from a pressure point of view was suffocating.
On the outside, he appeared a strong, confident athlete, but his anxiety was simmering beneath the surface.
Growing up, he'd always been the person people went to when they needed help. Now he was the one who needed support, but he didn't even know how to ask.
It was a mate at training who could tell something was off and he practically dragged Crowell in to see the team doctor in 2002.
He started talking and as the words came out, a weight lifted off his shoulders.
The doctor diagnosed him with mild depression. The mid-season break was coming up for the Crows, so the doctor advised him to jump in the car and head up to the family's farm to recharged.
He cried in the car on the phone to loved ones.
When he returned to Adelaide he was a new man.
"I ended up playing the next 12 games in a row including the Preliminary Final and played the best footy I've ever played," he said.
Crowell (R) sings the team song with Adelaide teammates in 2002.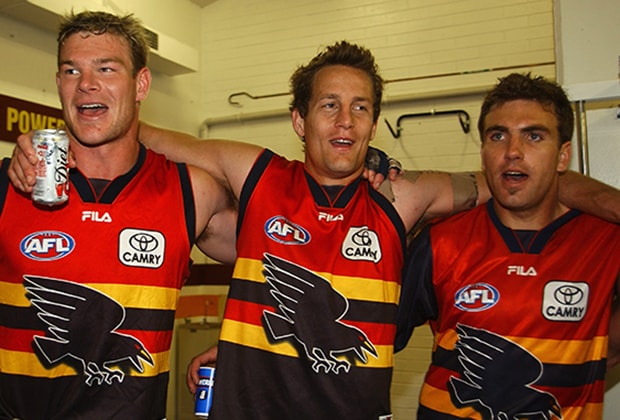 But the following year his career came to an abrupt end. While playing in the SANFL he tore his ACL and underwent a knee reconstruction. He was delisted at the end of the 2003 AFL season.
Four years and 44 AFL games and it was over.
"I think for me the initial emotion was relief. I felt like now I could be 'normal,'" Crowell explained.
"But looking back it took me a long time to feel normal again."
Like the young man in the airport, he was lost.
"You grow up wanting to do something…so then I achieved my goal and by the time I've turned 25 I've set out to do something and I've achieved it and then it's over," he said.
With no plan in place, somehow he ended up working at a panel beaters.
He went from being a professional athlete to sweeping floors, sanding trucks and polishing truck rims. But he says it was exactly what he needed at the time.
"It was therapeutic in a way because no one there was interested in AFL," he said.
After the initial shock was over he could not bear to watch the game he had loved so much growing up.
"And then there was the one where I just didn't want to watch footy. I didn't want to have anything to do with football for two years," he said.
"It's funny because a lot of my good mates were still playing but I couldn't bear to watch and didn't want them to win without me…which is selfish."
But he wasn't done with Club land just yet. A year later, in 2004, the phone rang for a third time. Phil Harper offered him a job at the Crows as Junior Development Coordinator.
Just like that he was back in the football bubble and loved it. Over three years his jobs at the Crows ranged from ground announcing to working with sponsors.
But his life really changed in 2008 when he accepted a job offer from Mark Bolton for the AFL Player Association's new program called Ladder.
"The gods were shining down on me at that time," Crowell said.
"Ladder was an unbelievable turning point for me because it was sort of where I found my niche in the world."
The organisation would house 23 homeless adolescents between the ages of 16-25. It would provide them with a place to live, but ultimately help them form relationships and create opportunities.
The time Crowell spent with Ladder has shaped everything he does now.
"I met some of the best people I've ever met," he said.
"The most talented people, the most loyal, friendly, kind people you'd ever want to meet and all they needed was an opportunity."
Fast forward to 2018 and Crowell is at the Lions. He was lured north for the job by former Crows colleague David Noble in late 2016.
When the players have finished training, many of them sneak off to his desk afterwards for a guitar sing-along and a chat.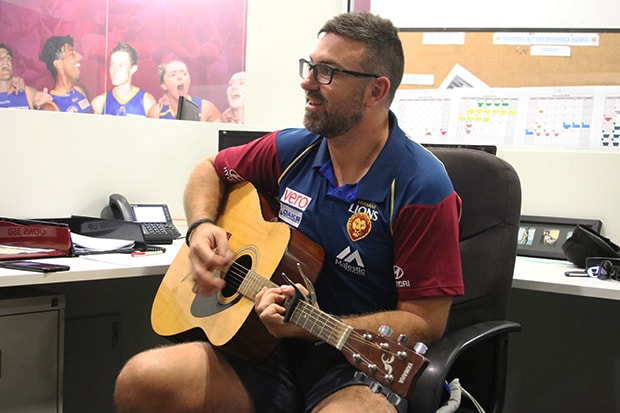 If 'Crowelly', as they all call him, is not furiously typing away on his computer, he is belting out a song on his guitar.
They come in and for twenty minutes the players have forgotten about the game on the weekend or if they'll be up for selection or if they'll ever recover from their injury and just relax. Regulars at his desk include Matt Eagles, Charlie Cameron and Cedric Cox.
Music is his stress reliever and Crowell says it's important for the players to discover what theirs is.
"Knowing what it is that takes your mind away from football," he said.
"We're just a speck on your life I suppose to what your career is like."
His mindset for the players is all about empowerment.
"The transition for a player starts when they get drafted. So, players by the time they finish their careers, they should be prepared for what's next," he said.
With his team, they are keen on helping the players sign up for university courses, getting involved in community events or work experience.
This year the Club had four players graduate from a real estate course, Claye Beams finished his plumbing apprenticeship, and many have started a business certificate.
"The reality is that every single player leaves," he said.
"Every player whether you play fifteen years or two years is going to leave the system and you're going to have to step into something else."
Not only does his department assist players with their careers away from football, but also what's happening in their personal lives from a wellbeing point of view.
"Mental health is an area we focus heavily on in our department. We provide a number of avenues for players, their partners and family members to access professional support when needed. In addition to this we provide ongoing mental health programs aimed to equip players with the tools they need to deal with issues when they arise".
Recently Crowell was part of the exit interviews after six players were delisted, which he can relate to.
This time he saw it from another perspective.
"I've always been on the player's end of the delistings, whether it's been through my personal experience or my role with the AFL Players Association" he said.
"Sitting down with Chris Fagan and David Noble at the end of last year. At the end of the day when we delisted our players they were gone. They were mentally shot."
As brilliant and exhilarating as the industry can be, he knows it's equally as tough.
"For us it's about having good systems in place," he said.
Crowell joins in on junior club jumper day at Lions training earlier this year.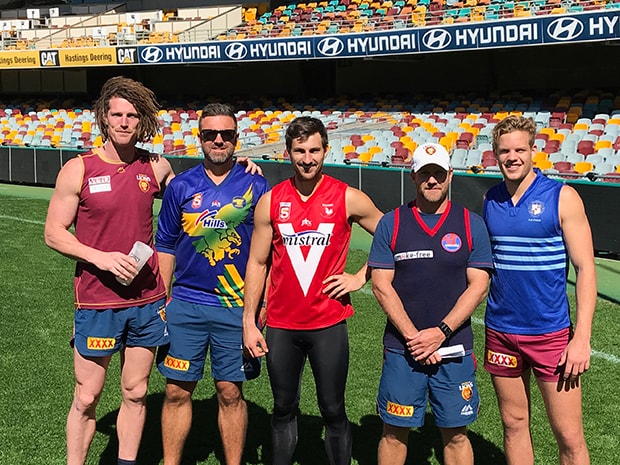 His team work directly with 46 players, as well as their parents, managers and partners and track every piece of communication.
Every week he sits down with Noble to discuss every players' wellbeing and how they are progressing in aspects of their life off the field.
It's a demanding job, with a 24/7 nature but Crowell would not have it any other way.
"I love coming to work every day. It's a demanding job but the people I work with are fantastic. Our players are driven, dedicated and eager to develop on and off the field and having mentors like David Noble and Chris Fagan have allowed me to develop and grow personally and professionally. It's a privilege to be a part of what we're building here at the Lions," he said.
He hopes the Lions can foster an environment where the players enjoy their time, as it can be over all too soon.
"You do have to make the most of it and enjoy it and appreciate what's in front of you," he said.