Brisbane Lions recruit Tom Fullarton has been in the Den for one month since trading his basketball shoes for footy boots.
Keeping a close eye on his development are his former All Australian schoolboy teammates in Cameron Rayner, Connor Ballenden and Brandon Starcevich.
In 2014 all four received a representative blazer after starring at the U15 Australian Football Schoolboy Championships.
None could have predicted that four years later they would all be in their first year of AFL at the same club.
Fullarton (middle row, fourth from the right), Ballenden (middle row, third from the right), Starcevich (middle row, first on the right) and Rayner (back row, third from the left).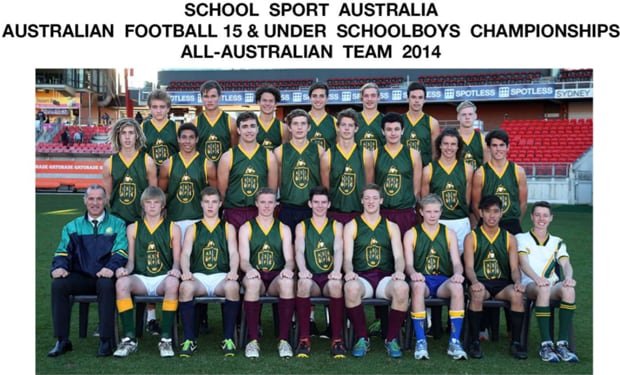 Ballenden understands Fullarton's potential best, after both played together from U12's in the Queensland team, right up until Fullarton took two years off to focus on basketball.
"It's really exciting. Tom and I started our journey in the Queensland U12's where we went down to Canberra and played there," Ballenden said.
"I enjoyed playing with him when I was younger.
"We played the same position, so we had a lot to do with each other. I'm really looking forward to seeing him grow with myself at the Lions.
"He's very athletic, he's agile. Especially since he came from his basketball background. He can take a very strong mark."
Ballenden knows it will take some time for Fullarton to get up to speed but likes what he's seeing so far.
"He's still sort of getting into touch with his old skills, especially since he was out for two years but it looks like he's picking it up really fast. He's kicking well," he said.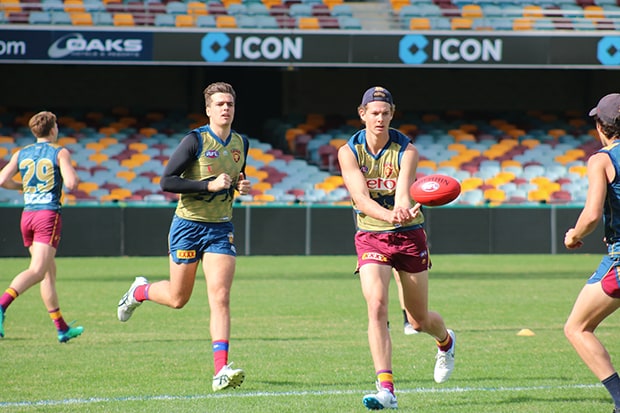 Fullarton admits the change has been a challenge.
"Probably the hardest thing is on the field, some of the fitness stuff that I've been doing but I know it's only going to get harder from here before it gets easier," he said.
"I wasn't really sure what to expect coming back. I wasn't really sure the level I'd be at. But I'm pretty happy with where I'm at and hopefully after the bye and a few more weeks after that I can get back to playing NEAFL games."
Being tackled is something Fullarton will have to become accustomed to again, luckily he enjoys it.
"It's a bit different compared to a basketball court but I always loved the physical side of footy as a kid," he said.
Off the field he has been welcomed by staff and players.
"It's been really good. There's a great bunch of blokes here at the Club and they've helped me settle in nicely."
Fullarton has been given jumper number 47.