When Mitch Robinson was limping off with a sore foot in Round 7 against the Swans, little did he know, it would mark the end of his 2017 season.
"It was weird, I got tackled from behind and had a sharp pain in my foot," Robinson told lions.com.au.
The pain was unlike anything he had experienced before. He came off, did some testing with medical staff, and was deemed ok to go back on.
"He came off because his foot was sore. It's very hard to diagnose fractures or anything like that in a game," Damien Austin the Lions' High Performance Manager said.
"He felt he could play on, so we put him back out there."
But Robinson did not last long and quickly returned to the bench.
Mitch Robinson is tackled during the Round 7 match against the Swans last season.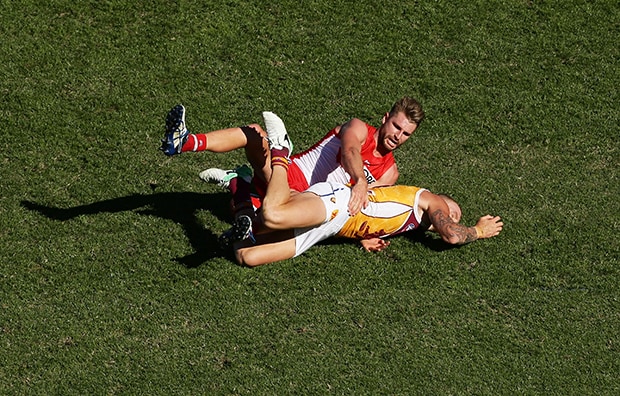 The next day he learned he had broken his foot and it would require surgery. His season was over.
"It was pretty frustrating and unfortunately it was my the last game for the year," he said.
"There was no regret going back on."
In a cruel twist, the injury robbed Robinson of playing his 150th match in his homeland of Tasmania the next round.
"You never want to tell a player that they can't do what they love doing. Particularly Mitch Robbo, who loves playing games and being around the football environment," Austin said.
The process of rehabilitation was unchartered territory for Robinson, having been relatively injury free for most of his career.
"I took it pretty poor to start off with…Being isolated in rehab was really tough for me in the early days."
Eight weeks after Robinson's initial surgery, he had a screw placed into the fracture. This was on top of walking around in a moon boot and knee scooter.
He didn't start walking normally until two months after the injury.
"I had two kids at home who thought it was pretty fun to muck around on the bike. It was hard to keep up with them at times," he said.
Like most players recovering from a season-ending injury, Robinson had some days where he struggled.
"I think initially it's hard to go into rehab and the reality of not playing games, especially in the early part of the season," Austin said.
The medical team kept Robinson busy in his recovery by focusing on other things than just his foot, including upper body strength and life outside of football.
Robinson trains on the battle ropes at pre-season training ahead of 2018.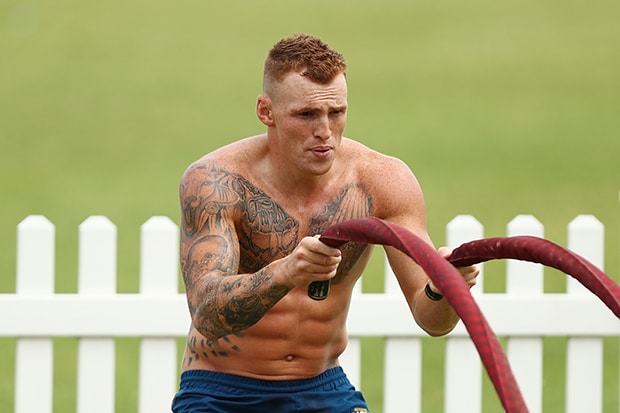 By the last round of the year, he was back running. The feeling was very new, after months away from the game.
"I was obviously very excited to get stuck into it," he said.
"Although kicking was still awkward on my right foot. I was a bit hesitant to kick the ball because it didn't feel right."
During the off-season, Robinson built his confidence up and attacked the running program and could not wait to return and be amongst the team again.
"It was probably the first time I came back earlier then I had to. Going into my tenth year now, it was kind of weird coming back with the younger boys," he said.
"Also just getting the feel of the ball again because it had been a long time since I had the boots on and started training."
The months on the sideline and isolation of the rehab process changed the way he approached the 2018 season.
"Having that time off put a lot in perspective. I wouldn't say you lose your love for the game while you're playing but I appreciate it more," he said.
"I do feel like I'm the hungriest Robinson, in that sense."
The next game he plays will mark 50 games for the Lions and 150 AFL matches.
"The 150 will mean a lot to me personally. I'll run out with my daughter now. She's obviously been born since then and I'll run out with Chance as well," Robinson said.
"I'm looking for a big year."
As for the foot, it has healed, and his body has never felt better.
"He's had no issues with his foot throughout the pre-season. We're really happy with it," Austin said.