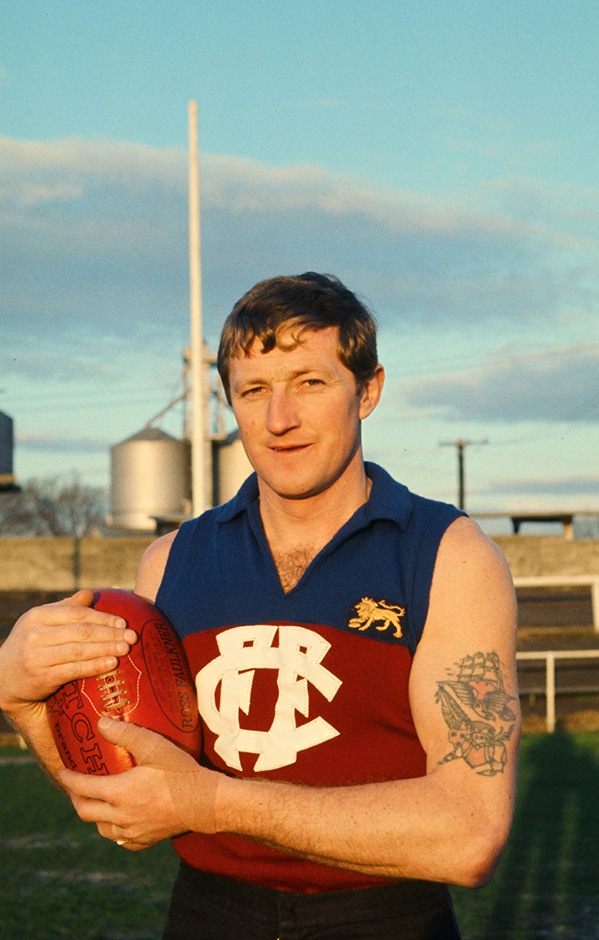 In 1969 Neil Armstrong became the first man to walk on the moon. The Beatles played their final public performance on the roof of Apple Records. John Gorton was re-elected Australian Prime Minister.
And Fitzroy's Kevin Murray famously won the Brownlow Medal aged 31.
To mark the 50-year anniversary of this wonderful achievement, 'Bulldog' Murray will be honoured a special commemorative guernsey as part of the Brisbane Lions Hall of Fame celebrations to be held in Melbourne later this year.
The guernsey will be worn by the Lions players in their match against Carlton at Marvel Stadium on 8 June and will feature the Fitzroy colours complete with the FFC emblem on its front.
A silhouette of Kevin Murray at the famed Brunswick Street Oval appears on the front of the jumper, with a sublimated Brownlow Medal on its back.
Murray is one of only four legends to be inducted into the Brisbane Lions Hall of Fame – along with fellow Club greats Haydn Bunton, Garry Wilson and Michael Voss.
Widely recognised as the 'people's Brownlow medalist' due to his willingness to share his love of winning AFL's most prestigious individual award, Murray fondly remembers the night he polled 19 votes to win by a vote from both George Bissett (Footscray) and Barry Davis (Essendon).

"The Lion Hunters at the Fitzroy Football Club held their own best and fairest dinner and we listened to the Brownlow count," Murray recalls in Ben Collins' book The Brownlow.

"Because of the screaming, I couldn't hear it (winning the Brownlow), but everyone went wild.
"I was being interviewed when some of them picked me up on their shoulders and took me on a lap of the block. There were about 50 of us and tram drivers rang their bells for us to get out of the way. It was a wonderful feeling.
50 years since that special night, Murray is still as passionate as ever about his beloved Lions, having strongly put his support behind the merged club through thick and thin.
And just like that endearing image of Murray in the stands after the Brisbane Lions 2001 premiership victory, Lion's fans will be looking out for Bulldog proudly waving his Fitzroy scarf as the boys run out in his honour on June 8 at Marvel Stadium.
Pre-order your commemorative Kevin Murray Hall of Fame Guersney now!
Bulldog dons the commemorative guersney to be worn in Round 12 by the Lions.


The views in this article are those of the author and not necessarily those of the AFL or its clubs