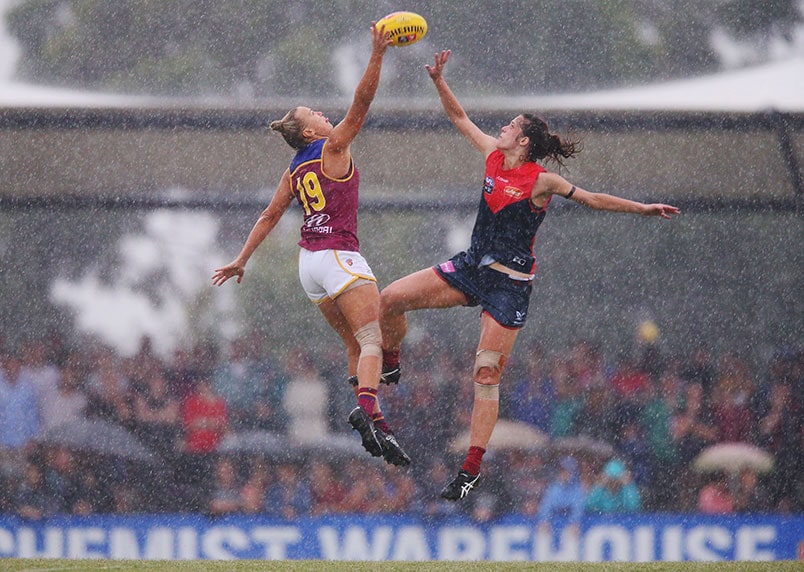 MEET YOUR 2019 AFLW BRISBANE LIONS WINTER SERIES SQUAD!
The Winter Series returns in 2019 with your favourite Lions AFLW stars pulling on the guersney again for three games this off-season.
They will be joined on-field by some of the brightest Hyundai Help for Kids Lions Academy prospects, looking to be drafted this year, as well as some of the QAFLW competition's local stars.
It will also be Lions' fans first preview of recruit Rheanne Lugg.
Coach Craig Starcevich said he and the team cannot wait to get started.
"The benefits of the winter series are twofold for us," he said.
"It provides us an opportunity to check-in with our current listed group and to play them together on three occasions across the winter. This allows our medical and conditioning staff to have closer contact and provides the coaches with a chance to experiment with players in different roles.
"Secondly, it's an exciting time for us to integrate our Academy prospects and high-end talent in the QAFLW. Jesse Wardlaw and Nat Grider were two of our Academy products from 2018 who excelled in last year's winter series."
Lily Postlethwaite is one of six current academy players to take to the field. She is a highly skilled, athletic small midfielder or forward and currently plays for Maroochydore in QAFLW. She is a competitive beast who breaks away from congestion with speed.
Her Maroochydore teammate Belle Dawes is also part of the academy and is described as a dynamic inside midfielder or small forward and is a hungry ball winner.
Chloe Gregory is the third academy player who also runs out for Maroochydore most weekends. She is dangerous inside 50 when lining up as a forward and is know for her strong left boot.
Tahlia Hickie is an overage academy player who is currently starring for Coorparoo in the QAFLW competition. She is most often found in the ruck, with a long right foot kick. She is quick and agile for her size.
Hayley Moore, Hickie's teammate at Coorparoo and the academy, is a medium forward with clean hands and neat kick squalls. She is known for her intercept marks in the defensive line.
Tarni White is another Coorparoo and academy player. She is strong, athletic and a dangerous mark inside 50. The youngster is returning after an ACL injury in 2018.
Cathy Svarc trained with the Lions AFLW team during the 2019 season and is a teammate of star defender Kate Lutkins at Wilston Grange. She is a tough, athletic inside midfielder or half back.
Kayla Geddes also trained with the AFLW side this year after impressing for Coorparoo in the QAFLW competition. She is a quick, outside midfielder or forward and is not afraid to take the game on with her run and carry.
Dakota Davidson was plucked from the University of Queensland (UQ) senior women's team after impressive performances in the ruck and forward position. She is a former rugby player who attacks the marking content with aggression.
Davidson's teammate Maria Maloney is a tough inside midfield who is composed under pressure. She is skilful by both hand and foot.
Greta Bodey, another UQ player, also currently plays NPL soccer for The Gap. She is a medium midfield or forward with great game awareness and the work ethic to match. She kicked three majors on debut for UQ against Aspley on May 11.
Jess Maher, is starring for QAFLW ladder leader Bond University in the midfield or half back. She is athletic, clever with her use of the ball and is a product of the Simon Black Academy.
Selina Priest (formerly Goodman) has already been part of the Lions fabric, having been a member of their inaugural team back in 2017. She currently plays for the Coolangatta senior women's side and is an athletic ruck or defender. She competes effectively in the air and runs the ball well out of the defensive 50.
The Lions have stared their training preparations with their first game against the Gold Coast on Saturday May 25 at Metricon Stadium at 4:45pm.
SQUAD
Ally Anderson
Lauren Arnell
Emily Bates
Shannon Campbell
Arianna Clarke
Gabby Collingwood
Belle Dawes
Jade Ellenger
Chloe Gregory
Nat Grider
Tahlia Hickie
Jessy Keeffe
Breanna Koenen
Rheanne Lugg
Kate Lutkins
Brianna McFarlane
Hayley Moore
Lilly Postletwaite
Jesse Wardlaw
Sharni Webb
Tarni White
Jessica Wuetschner
Jordan Zanchetta
Emma Zielke
Cathy Svarc
Kayla Geddes
Maria Maloney
Jess Maher
Dakota Davidson
Selina Priest
Greta Body
Rheanne Lugg
The views in this article are those of the author and not necessarily those of the AFL or its clubs