The Brisbane Lions have been terrible at contested ball for years – and they know it.
Last season they won the count just four times (and drew it once), despite exceptional years from midfield anchors Dayne Beams, Dayne Zorko and Tom Rockliff.
Of the five games the Lions halved or won the count, they won four – the link was direct.
"We've ramped it up a fair bit this year, the competitive side of our training," coach Chris Fagan said.
"That's a part of our game we need to get better at. We haven't been great at contested ball as a footy club for five or six years."
Now 12 months into his job, Fagan is adding more layers to his education of the young Lions group.
Standing on the perfect surface in the middle of the University of Tasmania Stadium in Launceston, it's noticeable the speed and force of most drills has improved dramatically from last pre-season.
Contested ball is a major focus of the three-hour session.
Firstly, winning it, then getting it out of congestion, and even the top-up running at the end of training is pitched as an opportunity to improve on getting to more contests under fatigue.
Luke Hodge whacks into Dayne Zorko and tries to dislodge the ball as the pair compete in a drill. Zorko doesn't buckle and keeps his feet – and the ball.
Nick Robertson hits Tom Bell with everything as the pair of monster midfielders swap turns in a wrestling drill.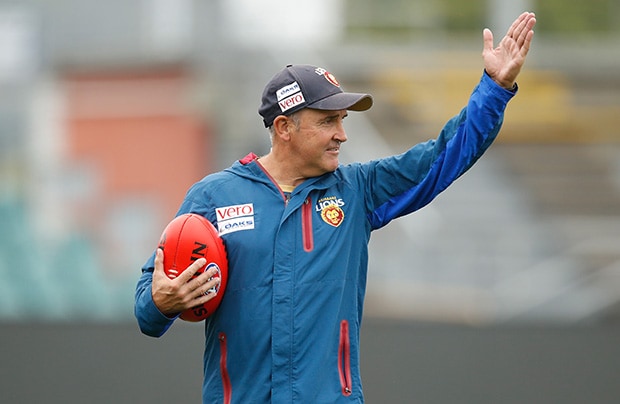 The intensity is up from the moment they hit the field.
And it has to be for the 'face-up' drill where two defenders try to smother or intercept the ball from six teammates whose aim it is to keep it away from them in a small-sided rectangle.
Hesitate a millisecond and you're gone. Young midfielder Ben Keays is tackled twice early on. It's an area he needs to improve. Keays quickly learns and is sharper for the rest of the drill.
One Lions staff member described the same drill last year as like watching treacle compared to the zip and hunger now on show.
Fagan walks from one group to the next, but rarely takes charge. He leaves that to the respective line coaches. Murray Davis marshals the defence, Dale Tapping the midfield and Jed Adcock the forwards.
As the session moves from contested work to ball transition, Fagan becomes more vocal.
He keeps things simple. The Lions don't want to be too cute. Last season they were one of the best teams in the competition at converting their forward 50 entries into scores. It just wasn't getting in there often enough.
Win the contest, get it out and give the forward line a chance.
Utility Rohan Bewick sprays a kick that is intercepted. Rather than chastise him, Fagan simply asks: "What should you have done there, Ro?" Bewick acknowledges his mistake and quickly gets back in position.
"The relationships are stronger (than 12 months ago), therefore the conversations are better," Fagan said.
"They know I'm coming from a good place. I only want them to get better.
"I look at it the same way when they give me feedback, I accept they're trying to make me a better coach."
Fagan is just as quick to praise.
As the backline players practise moving the ball from the defensive 50 under pressure, rookie Matt Eagles lays a shepherd to free up a teammate.
All coaches love that stuff, and Fagan's vocal praise shows he's no exception.
It's a give-and-take the Lions have tried to create over the past year. Despite finishing last in 2017 with five wins, there's a buzz around the team.
Draftees Cam Rayner and Zac Bailey are confident enough to try and evade men much more senior in size and age. Brandon Starcevich leaps high to take a mark despite Daniel Rich hurtling back towards him looking for a mid-air collision.
The youngsters have quickly embraced the mantra to compete.
For the Lions to climb – even if it's slowly – they need to.