The first person every Brisbane Lions player thanks once they've come back from a serious injury is Selwyn Griffith.
Inside the four walls of the Lions Den he is renowned for helping the players come back from devastating injuries.
Rehabilitation can have a 'doom and gloom' reputation but Griffith busts that myth with his positivity. You will always see him with a smile on his face.
"I guess the stigma with rehab is that everyone hates it and it can be a really dark place for people. At the time when I took it over it was probably regarded as an area where people got too comfortable," Griffith said.
"We really tried to change that.
"It wasn't just about trying to rehabilitate your injury, it was about how you can get better as an athlete and a person."
Griffith is an osteopath by trade and footy-mad. He had worked with UFC fighters, martial arts fighters, ironmen and ironwomen before finally getting his foot in the door six years ago, by coming to the Club a couple of days a week to give players massages.
He was then hired to work full-time before eventually being appointed as the Rehabilitation Coach two years ago, working alongside the high performance and medical staff.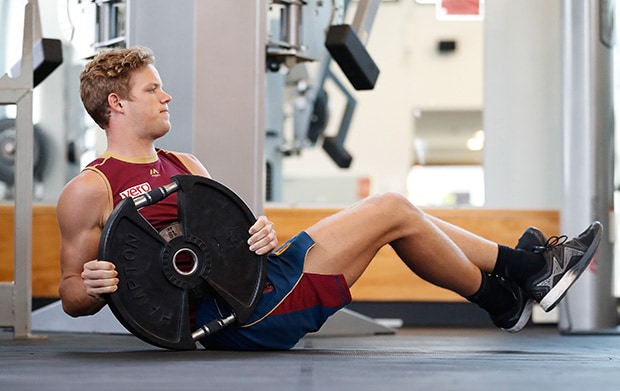 In his role, along with helping the player recover from their injury, a large element is balancing the emotional toll the player can suffer.
Last year four Lions players including Mitch Robinson, Allen Christensen, Sam Skinner and Tom Bell suffered season-ending injuries.
"It is a happy balance with those guys who know they're going to miss out on the rest of year of challenging them but not pushing them to breaking point," Griffth said.
"Because they are going to have bad, dark days or weeks even where they are just so frustrated they're not training or playing with the group that they don't want to come into the Club.
"I think, fortunately, I've been able to build a rapport with them, that they're open and honest with me on the days that they feel bad."
It's as much an adjustment for Griffith as it is for the player.
"And I've got to know that just because they're having a bad day doesn't mean I have to continue with the plan I have. I think the best plan is a plan that can be adjusted dependant on how the athlete is coping on that day."
Christensen, Bell and Skinner have all attested to Griffith's impact in helping them through their recovery.
'Bundy', who has been sidelined for nearly two years with collarbone problems, told Lions.com.au earlier this year that the rehabilitation process "can eat away at you." But Griffith was reliable and became a mate. Now he's back in full training, the collarbone is fine and he's desperate to be named in the Round 1 side.
Bell is another example. He suffered a freak injury playing in the NEAFL – where his ankle dislocated and broke in two parts.
Bell admitted Griffith's assurance that he had seen this injury before and players well and truly recover from it, gave him confidence in his own journey.
"Although it's an unfortunate incident. It's not the first time it's occurred," Griffith said.
"And we know we can get you back to the performance you were at prior to the injury."
Which happened – Bell smashed the three-kilometre time trial only weeks ago and is back running at his best.
Griffith says it's important to put milestones in place rather than weeks to recover – as a timeframe can set limitations.
The player setting goals inside and outside of footy is also important.
"Allow them to think of little tasks may be interesting or challenging for them," he said.
"It provides them context around you're in control of your rehab and it's not just me telling you what to do. It's about you being in control of what you want to do and getting yourself through it."
Developing interests outside of football is also key and he works alongside the Club's wellbeing team to achieve this.
Last year Christensen helped coach the NEAFL team and Bell did work experience.
"All had focusses outside of football…we're trying to develop them as people, not just athletes."