Tim Notting was an integral member of the Brisbane Lions' premiership in 2001.
'Possum' was famous for his powerful and lethal right boot.
But his place in that premiership team was extra special as he was one of the inaugural pure Lions players drafted to the merged club in 1996.
Notting, along with Rory Hilton, were the first players to come to the Club without a Bears or Fitzroy background.
"It was a bit different coming up here when there was already two established teams of players," Notting told lions.com.au as part of their Premiership Pride series.
"Looking back on it now there was a lot of infighting between Fitzroy players, Bears players and coaching staff."
It was not until Leigh Matthews was appointed head coach ahead of the 1999 season that the team became unified.
"Leigh changed everything," Notting said.
"It really started to gel."
The 2001 season was unforgettable for him. The team had won 15 games straight leading into the Grand Final against Essendon.
"We were on a massive roll. We were playing some pretty good footy. It was nearly like we were invincible," Notting said.
That day, on the biggest stage against the Bombers, he was unusually relaxed.
"I wasn't nervous. I'm normally nervous," he said.
"I usually throw up before most games."
But on this occasion, he didn't.
"I don't know, I think just the build-up was a few days out. There was a lot going on. On game day, Leigh kept it normal."
The Grand Final was played at a frenetic pace, with the Lions down at halftime.
"It was a pretty tight game," Notting said.
He remembered small moments in the game – him spoiling the Bombers' ruckman in the goal square, Luke Power doing a hard tackle and Shaun Hart's desperation.
Notting said these one-percenters were the difference.
"Just little things that tipped the scale our way," he said.
"I think we prided ourselves on them."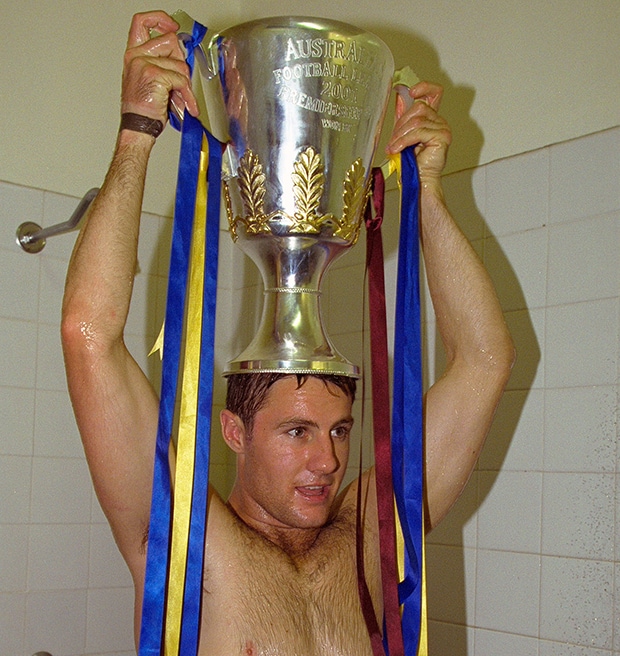 Notting celebrates in the showers post-match.
But goals were still critical that afternoon and Notting kicked one to extend their lead in the final stanza and immediately ran over to embrace Alastair Lynch.
"That was the first goal of the last quarter, so it gave us a bit of a buffer," he said.
Once the siren blared across the MCG and the Lions' song started to play, emotion swept over him.
"Probably relief," Notting said.
"Initial relief."
However, as time passed he managed to soak in what he and the group had achieved and in doing so, created history.
"As the night wore on and the weeks wore on, it was just the excitement that you'd done something that every kid dreams to do," he said.
Notting would play the following year in the 2002 Grand Final against Collingwood.
Previous episodes of the Premiership Pride:
Episode Three: Marcus Ashcroft