2018 has kicked off in style for the Brisbane Lions, with Cameron Rayner extending his contract until the end of 2021.
Selected with the coveted number 1 pick at November's AFL Draft, Rayner has signed on for a further two seasons at the Gabba.
"I'll be up in Brisbane for four years now which is very exciting. The team's looking like it's going in the right direction and I want to be a part of that," Rayner told lions.com.au.
"There is just so much young talent here."
Rayner can feel the difference in 2018, can you? Become a Member today!
The 18-year-old, who is living with Lions CEO Greg Swann, has adapted quickly to the Queensland lifestyle.
"I think just as a whole the Club's been really good to me and it's just somewhere I want to be," he said.
"It's pretty nice in Brisbane. You can walk around in a t-shirt and shorts all day."
Swann believes Rayner's signature demonstrates that Brisbane is becoming a destination Club.
"I think this year helped, specifically with Luke Hodge coming on board and Charlie Cameron in the trade period," he said.
"We think we did really well in the Draft. We've already had some really good signings. Hugh McCluggage before Christmas, Jarrod Berry before that as well. We feel all the young guys are buying in."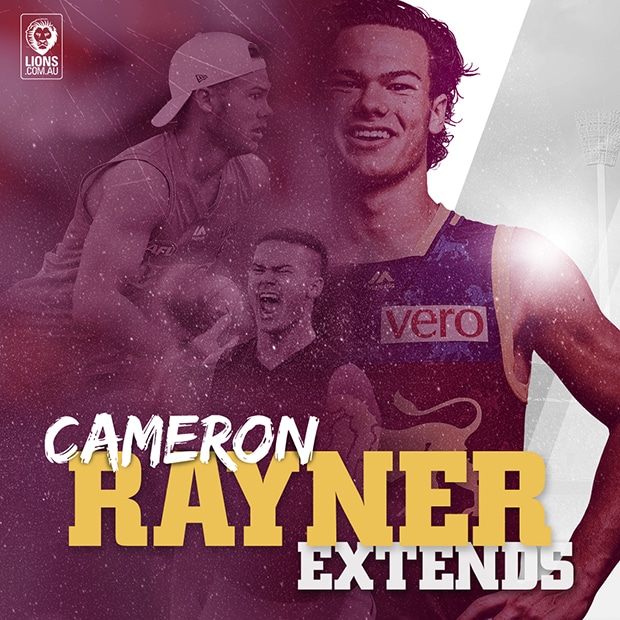 General Manager of Football David Noble says the signing reflects the Club's optimism amongst an emerging group.
"As a Club we are building a strong culture and Cam's early decision to extend is a great indication of this. Cam has brought an infectious energy to the group and we look forward to his growth over the coming years," he said.
Senior Coach Chris Fagan says in his first two months of his professional career, Rayner has shown strong desire to learn and improve.
"It's great news for the Club that Cam has decided to commit for the next 4 years. He, along with the other 5 young men we drafted in November, have had a positive impact on our environment since arriving," Fagan said.
"Cam's highly competitive nature, his team-first approach and willingness to work hard have been highlights over his first couple of months. His skills and ability to read the game combined with his power and speed are valuable attributes for our team.
"Above and beyond everything else he is a terrific person who is hell-bent on earning the respect of his teammates for the way he goes about his life and his football."