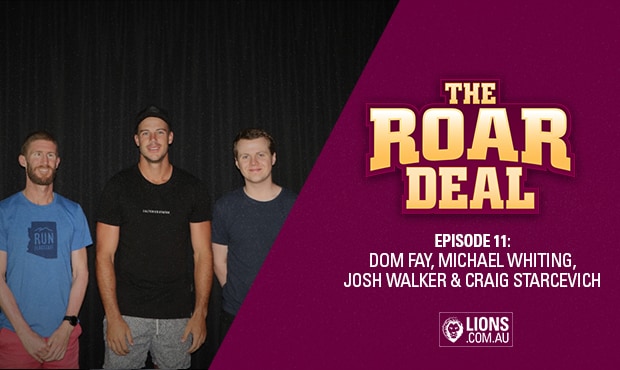 The Brisbane Lions have kicked the new year off to a strong start with their first win over the long weekend.
A few of the boys took to the cricket pitch for a Twenty20 match against a local Yeronga outfit and according to Josh Walker, it was an easy win.
Walker joined The Roar Deal podcast hosts, Dom Fay and Michael Whiting, to talk about who turned up the heat during the social match.
"Thankfully we won quite easily, but I'm happy to report that the star of the match was Luke Hodge," Walker said.
"He hit a brilliant 100 off about 40 balls.
"Luckily he brought something with the batting because he wasn't bringing much in the field."
Alongside Walker and Hodge, the team line-up consisted of a number of Lions stars including Dayne Zorko, Lewy Taylor, Ryan Lester, Rohan Bewick, Sam Mayes, Brandon Starcevich, Allen Christensen, Nick Robertson and Darcy Gardiner.
When questioned by Fay about who was the biggest 'let-down' on the day, Walker was surprisingly honest.
"Well… I wasn't great," Walker joked.
"I only made one [run]."
During the podcast Walker also revealed the news that his hit LionsTV show, DisasterChef, won't be returning in 2018, with a new show currently in the works.
"I'm brainstorming at the moment, but I do have a couple of ideas up my sleeve."
Walker hyped the show up to be 'a big production' and enlightened that there will be many meetings to come before the show gets the go-ahead.
Watch this space Lions fans!
Lions AFLW Coach Craig Starcevich also joined the podcast this week ahead of this weekend's blockbuster rematch against Adelaide Crows.
With the pre-season relatively short and 13 new faces joining the team this year, Whiting and Fay questioned whether the team were feeling ready to hit the ground running this Saturday.
"As ready as you can be, and in a better place than this time last year," Starcevich responded.
"I think we realised last year that we could've done a few things earlier in the piece to prepare, so we've done that this pre-season.
"We need to bring the energy, the spirit and the relentless pressure that is the trademark of our team from last year. We need to bring that to the table again."
Season 2.0 of AFLW beings this weekend with the Lions travelling to Adelaide to face off against the Crows at Norwood Oval at 6.45pm local time (6.15pm AEST).
The views in this article are those of the author and not necessarily those of the AFL or its clubs