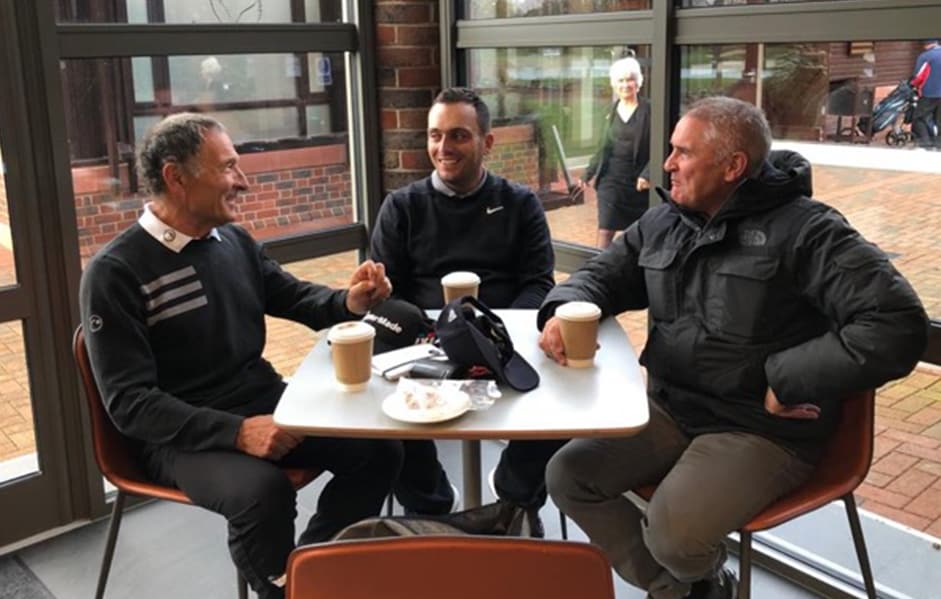 While in the United Kingdom, Senior Coach Chris Fagan will be visiting a number of sporting teams and facilities to learn and develop as a Senior Coach. Here he writes about his time so far and the people he has met in the UK:
Thursday, 8 November:
Late last week I ventured out to Harlington, the location of the Queens Park Rangers training centre to watch them train.
The training centre previously belonged to Chelsea FC but they have moved on to a big and better complex in more recent times so the "R"s as they are known have taken over the facility which I must say is a bit run down and outdated.
The session I watched was very tactical in its nature and completely focused on what they needed to do to defeat Brentford, their opponent on the weekend.
This is a traditional derby so much was at stake, especially since they are quite close together on the ladder. Bragging rights was also critical to the result of this clash.
Again, I was impressed by the intensity with which they trained. Most of the drills were games with a couple of ball movement drills thrown in.
Massimo Luongo, a regular selection in recent Socceroos teams, is a midfielder at QPR and as such plays an incredibly important role in linking up the play for his teammates.
He was impressive at training – I was able to meet him and Coach Steve McLaren at the session.
Massimo was kind enough to organise me a couple of tickets for the game against Brentford which would allow me to witness the ability of the team to put what they practised into action on match day.
Friday, 9 November:
On Friday I ventured out to Wisley Golf Course – a private club about an hour from London.
It is the home club of this year's British Open winner Francesco Molinari, the 8th ranked golfer in the world in 2018.
Dave Alred, who lives part-time in Brisbane and part-time in England, is one of his coaches. Dave did some goalkicking work with a few of our forwards late in the 2018 season and will continue doing so with us during the pre-season.
When Dave found out that I was going to be in London this month he invited me to come along and watch a training session with Francesco. What an opportunity!
I've got to say it was an absolute pleasure and a great learning experience to watch Fran train.
Dave pushes him hard and designs training that is tougher than tournament play.
Fran embraces this and works his hardest to make every shot that he plays count. He trains at an incredible intensity and his ability to concentrate on what he is doing is impressive. G
olf can be a very frustrating game at times, but Fran embraces this and moves on quickly when things don't go his way.
The consistency of his skills is just amazing and on top of this he is a humble and generous person.
There was a lot to take away that we can use to help our players improve their individual skills – particularly in regard to mindset and concentration at training.
Fages giving Dave and Francesco some advice on how to play golf!!

Saturday, 10 November:
On Saturday afternoon, my wife Ursula and I went to Loftus Road Stadium, the home of QPR FC, to watch them play the local derby against Brentford.
The stadium was filled to capacity and the energy levels from the fans of both teams was high. There is no doubting the passion the Poms have for soccer and more particularly the team they support.
75% of the fans were QPR and the Brentford faithful were all located in a small area at one end of the pitch, it was very interesting and entertaining to listen to the banter that went on between the fans.
Colourful language and chants were the order of the day with Brentford fans enjoying the advantage in the first half going in with a 1-0 lead after scoring quite early in the match.
Much to the relief of the QPR fans they scored three quick goals early in the second half and as you would expect they suddenly found their voices.
Brentford scored another goal late in the half but fortunately for the home fans they hung on to win 3-2 in a highly entertaining game played in wet and cold conditions.
Massimo Luongo our Aussie Socceroo played an important role in the victory scoring a goal and using the ball extremely well throughout. He is a smart player.
QPR v Brentford at Loftus Road Stadium on Saturday Afternoon.

Monday & Tuesday, 12-13 November:
On Monday and Tuesday of this week, I planned to attend the Leaders in Performance Summit at The Kia Oval in London.
As they say, though things don't always go to plan. In my case a decent bout of gastro struck me down on Sunday night and as a result I couldn't attend the Summit on Day 1 which was disappointing.
Instead, I mostly spent the day here: which wasn't much fun but nevertheless necessary. Fortunately, it was one of those 24 hour bugs that move on pretty quickly so I was able to attend Day 2 of the Summit.
Approximately 400 people attend this annual Summit.
The Kia Oval London - Venue for the Leaders in Performance Summit.

They come from all parts of the world and from many different sports. The event is a mixture of talks, interviews, focus groups and round table discussions.
It is a great way to pick up new ideas and to build your network of sporting connections around the world.
There were quite a few AFL people at the event including past Lions greats in Chris & Brad Scott.
The topics we covered on the day included:
1. Will Fraser – Director of "The Saracens Way" shared with us how his club went from being perennial underachievers to becoming the most powerful Rugby Union Club in England, winning four premierships and also achieving Champions of Europe crown on two occasions. They focused heavily on the embedding of a strong culture and values system underpinned by a clear focus on individual character development.
2. Jonnie Noakes [Director of Teaching & Learning] at Eton College & Paul Thompson [Vice Chancellor of the Royal College of the Arts in London] were interviewed around the topic of sustained excellence and success. Both organisations are considered highly successful leaders in their spheres of education. Topics explored included the importance of Growth Mindset, the concept of being radically traditional [which means they stick with what they do well but they are willing also to trial new, out there things to stay ahead of rivals]. The quality of relationships between students and teachers in both organisations was also recognised as a critical factor in success as was character education. The Lions are well and truly into all of these things which is great reinforcement for our programs.
3. Strength & Conditioning expert Lachlan Penfold was interviewed in regards to his experiences working with a range of different sports including AFL, NRL, NBA and Olympic Athletes. His strong message was that the ability for S&C staff to work in closely with coaches was critical to success and that having a range of methodologies to keep players fresh through a season, whilst challenging is vital for teams to be functioning well when finals come around. Each sport of course has its own unique challenges with different periods for pre-season conditioning and gaps between games.
4. Christian Horner Team Principal of Red Bull Racing then shared with us the story around his team's winning performance at April's Formula One Grand Prix. Aussie Red Bull driver Daniel Ricciardo crossed the line first despite the fact that his engine blew up just hours prior to qualifying. Through great team work and everyone playing their role with discipline, the engineers and mechanics were able to rebuild the engine in an hour making sure that Daniel was able to complete qualifying. He then went on to win the race with great tactical and technical support from his team. It was fascinating to hear from someone on the inside just how much teamwork, innovation and strategic thinking is involved to win an event like this. Us in the general public often think it just comes down to the driver and although their skill is incredibly important, without a great team behind them then success would be impossible.
5. I attended a lunch time focus group panel presentation on the effective use of data and analytics in sport. This was facilitated by Catapult who provide all the GPS monitoring of AFL players. They are a company who continually seek feedback from clubs in order to provide more relevant performance data that will enhance the development of both individual players and the team.
6. The afternoon mostly involved athlete wellbeing and discussions around how we can create environments at our various organisations where athletes can thrive and grow and where mental health issues are minimised. Dr Craig Ranson from the English Institute of Sport presented on this subject and delivered some interesting statistics and practical ideas on prevention of athlete anxiety and depression. We address this area with high priority at the Lions and understand the connection between below par mental health and increased risk of physical injury and illness. It is something we monitor constantly and will continue to do so.
Cheers from England,
Fages
Harry Cripps – Business Development Manager for Leaders Performance Institute & yours truly.

The views in this article are those of the author and not necessarily those of the AFL or its clubs