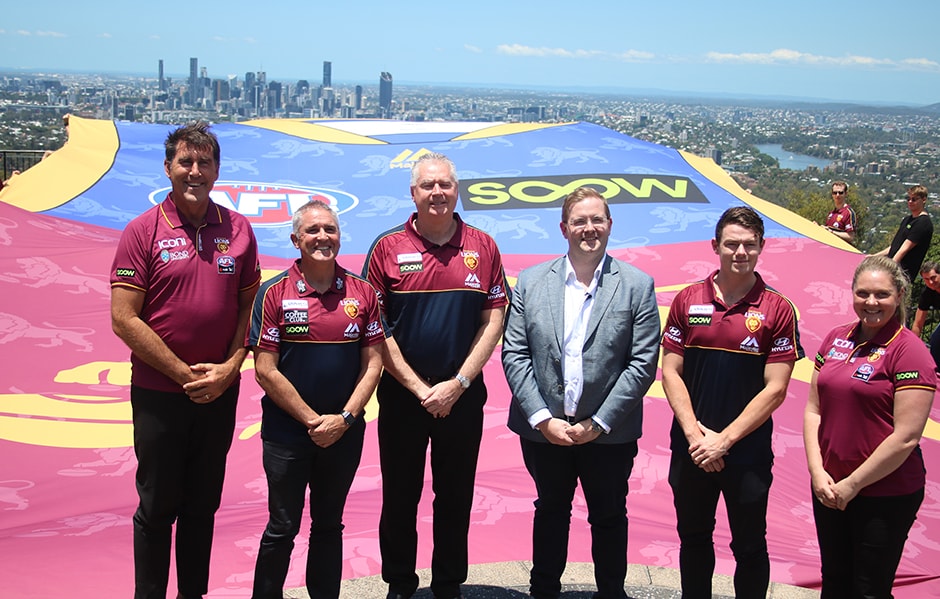 Today the Brisbane Lions proudly announced technology company SOOW as their co-major partner for the next two AFL seasons (2019 and 2020). They will also act as a support partner for the Lions AFLW team.
SOOW is a Brisbane-based technology start-up, with their offices within a stone's throw of The Gabba. Their business is about creating trust in how everyday consumers and enterprises share data openly.
Lions CEO Greg Swann, alongside Senior Coach Chris Fagan and new recruit Lachie Neale, introduced SOOW to Brisbane media today at the Mt Coot-tha Lookout . .
To celebrate, a giant Lions 2019 home guernsey was unveiled, featuring the new SOOW logo.
Swann said it was a fitting way to welcome the Club's new co-major partner, who will be alongside Oaks Hotels and Resorts.
"We are thrilled to welcome SOOW into the Den in 2019," Swann said.
"It is great to partner with such an innovative Queensland business and we look forward to assisting them in launching their business and educating our Members and supporters on what they do.
"What's so special about our partnership, is that the relationship will be mutually beneficial.
"As we will also work with SOOW on ways in which we can improve our business practices."
Michael Twomey, SOOW Founder and CEO, echoed Swann's sentiments.
"Good relationships are built on trust. SOOW technology is designed to build trust in how everyday consumers and enterprises share data openly," Twomey said.
"At SOOW, we are actively working to benefit the community, it's one of our core values as a company.
"There is a strong community of invested members behind the Brisbane Lions, and that's why we are excited and proud to work with them to help learn, nurture and grow stronger relationships with their supporters, and sponsors."
"We are fortunate enough to be working with some of the countries largest media companies, and now the AFL's Brisbane Lions. We are always excited and open to seeing what's around the next corner."
Twomey and SOOW staff were in attendance at today's launch.
About SOOW:
SOOW's purpose is to create trust in how everyday consumers and enterprises share data openly.
An Australian technology business headquartered out of Brisbane, Queensland. SOOW uses proprietary Software as a Service (SaaS) technology to empower consumers and enable businesses to provide innovative data compliant solutions.
One of SOOW's cultural values is to think big and simplify. We enjoy taking on challenging problems that need to be solved. Data driven insights, provide information needed to identify the change in behaviour, and enable communities to learn, nurture and grow.
They work with companies such as News Corp, Seven West Media, and the Brisbane Lions to build better relationships between consumers and businesses.
Find out more at www.soow.io
The views in this article are those of the author and not necessarily those of the AFL or its clubs