When you think of Fitzroy, you think of Kevin Murray. One of the Club's and game's true legends, Murray's pride and love for the jumper is as synonymous as his passion for the Brownlow Medal.
So, when the Brisbane Lions players run out this Saturday in a special Fitzroy-inspired Hall of Fame guernsey paying homage to Murray's Brownlow win, no-one will be cheering stronger from the stands than 'Bulldog'.
In consultation with Murray, the commemorative jumper's design is based on the second longest lasting Fitzroy guernsey, which ran in subtle variations from 1974 – 1996.
Introduced due to the advent of colour TV, this final change for the Fitzroy jumper moved from being predominately maroon and white to red and gold. Importantly, these colours remain embraced today on the away strip of the Brisbane Lions.
It also recognises the strong connection to the Fitzroy Junior and Fitzroy Football Clubs' that still play with pride at Brunswick St Oval (also featured on the Hall of Fame jumper) and carry the FFC monogram and Lions' colours. And in a nice touch, some of the players from Fitzroy Juniors will form a guard of honour for the players to run through onto the ground on Saturday.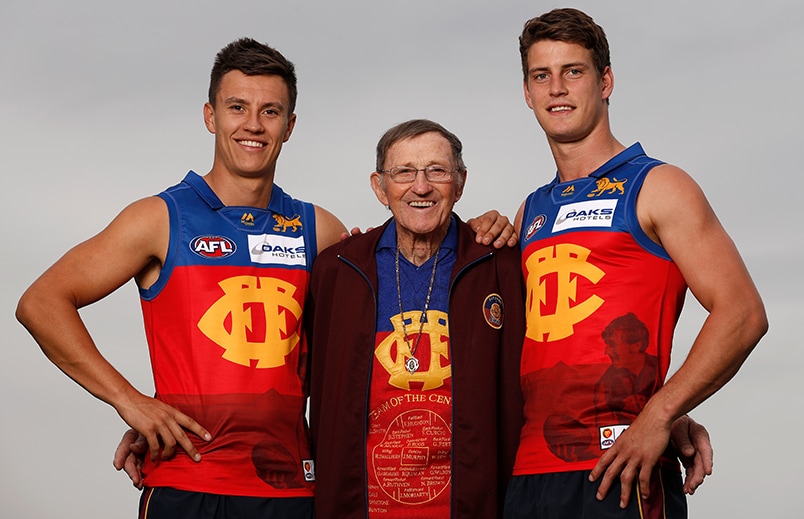 While Murray predominately wore the iconic maroon style jumper which the Brisbane Lions honoured with heritage strips back in 2003 and 2005, it was deemed this strip would cause too much of a clash with Carlton's traditional navy-blue strip. But that doesn't mean he never appeared in the red, blue and gold colours; wearing this strip in his last year of football in 1974.
What will warm the hearts of both Murray and Lions fans is to see the history-rich FFC monogram take pride of place on the jumper. First adopted in 1942, the monogram was as synonymous with Fitzroy as the lion, so it's highly appropriate that both will appear in their former glory this Saturday on the Hall of Fame jumper.
And in another lovely ode to the past, the jumper also includes the classic collar that adorned the jumpers worn by Murray throughout his career.
The Brisbane Lions boast a rich and unique history and are committed to recognising and celebrating our origins born from Fitzroy and the Bears through important events such as the Hall of Fame. The Club hopes that the Fitzroy-inspired design will resonate with ALL supporters – including those ex-Fitzroy fans who haven't necessarily embraced the merger.
The Brisbane Lions Hall of Fame Celebration will be held at the Melbourne Convention & Exhibition Centre on Saturday night, where nine inductees will be welcomed into this special group of greats.