There are few more decorated or distinctive footballers than Brad Hardie, a worthy inductee into the Australian Football Hall of Fame.
Throughout an illustrious career, Hardie's flaming red hair was hard to miss and his list of achievements - like the sleeves which became his trademark after suffering serious burns as a teenager – is long.
Aged just 16, he made his senior debut for South Fremantle under Mal Brown, and the next season booted three goals from a forward pocket in the 1980 WAFL Grand Final triumph.
It was the only team success he enjoyed and the personal highlight of a 15-year career which still had plenty of memorable moments to come.
Despite concerns over his lack of pace, Hardie proved his doubters wrong with a fierce competitive streak and innate ability to find the football.
After learning from South greats Stephen Michael and Maurice Rioli, he burst onto the national scene with a dashing performance from defence in the 1984 state game against Victoria, earning him the first of two Simpson Medals.
Courted by several VFL clubs, the back pocket rocket joined a different breed of Bulldogs and stunned the competition by claiming the Brownlow Medal following his first season at Footscray in 1985.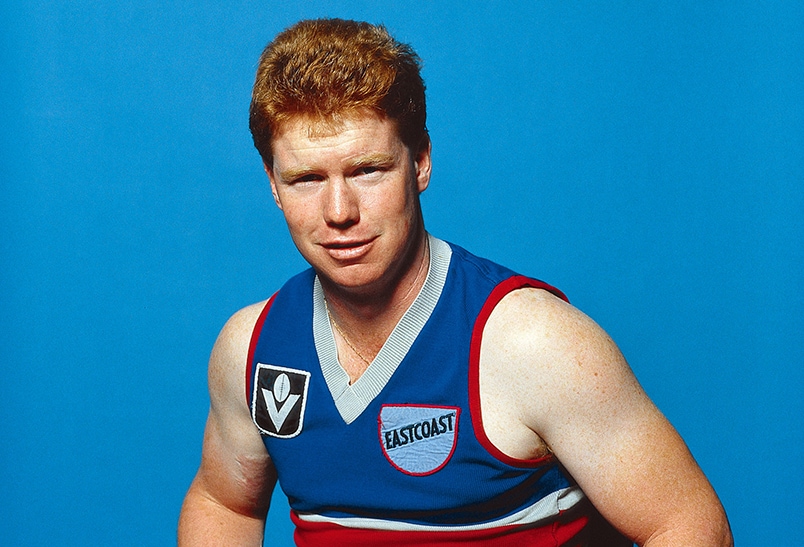 Did he understand the significance of winning the medal in his debut season?
"I did because I was reminded that Haydn Bunton Senior was the only bloke who had ever done it before," Hardie told AFL.com.au.
"I'd had a good grounding playing for South at that stage, and state footy and Gaelic football for Australia.
"You'd already introduced yourself to a lot of blokes you were playing with and against, so you didn't feel that intimidation factor that you might of as a kid stepping out for your first time.
"But the enormity comes later.
"When you're 22 you're bulletproof and you know everything. You just take it in your stride."
Despite his raging success, Hardie's tenure at Footscray was short-lived.
He won the best and fairest in '86 but a falling-out with coach Mick Malthouse led to an untenable situation and Hardie departed the Western Oval for new club Brisbane.
"The relationship with Mick Malthouse and I just fell completely apart. I just said, 'I'm out of here'," Hardie recalled.
"Shane O'Sullivan, who got me to the Bulldogs, was going to Brisbane to start that team so I said, 'Mate, I'm with you, I'm on that plane'."
While joining a fledgling club had its challenges, it was a move Hardie relished.
He was one of the Bears' most successful imports, booting 192 goals from 101 games over five seasons.
"I loved it. You're going to a non-football state, it's new, there's a million impasses to get through," Hardie said.
"We were training and getting dressed for games in portables. Our training sessions were like a road trip.
"You're here one night, Morningside the next night, then you might be somewhere else the next night. It was crazy.
"It was difficult, but enjoyable too. It kept it interesting."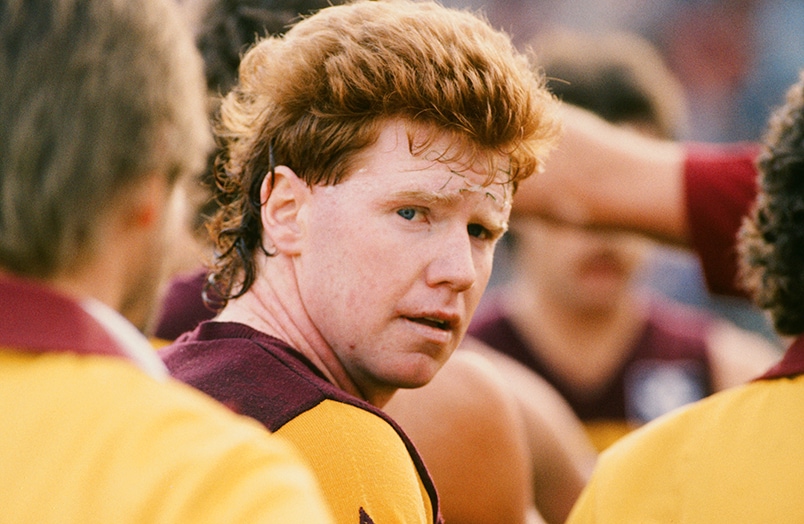 Hardie retired from the AFL in 1992 after two games for Collingwood and returned to South for one more season while he transitioned into a successful radio career with 6PR, where he has forged a straight-talking reputation over 27 years.
"I just called it as it was … tried not to become compromised by being too chummy or friendly with everybody, in terms of footy clubs, so you just can be objective rather than being blinkered," he said.
"Really, really happy for that and I hope that it continues for a little while to come."
The 56-year-old said it was "fabulous" to be inducted into the Hall of Fame – 15 years after he joined the WA honour board.
"You don't seek out these things or anything, but it's just terrific recognition of what you've been able to do, and when you get to my age you reflect a lot," Hardie said.
"It's very pleasing."