Saturday's thrilling victory over the reigning premiers marked seven years since the Lions last beat West Coast.
In Round 10, 2012 the Lions defeated the Eagles by just two points in a stunning comeback.
It was Johnathon Brown's 100th game as Captain that night and the Lions were tipped as underdogs.
Slippery conditions at the Gabba proved a challenge for both sides. In the first 10 minutes key forward Ash McGrath went down with an injured knee, which was a major concern for the home side.
The Lions put everything on the table in the first quarter, snagging a surprise eight-point lead going into the first break.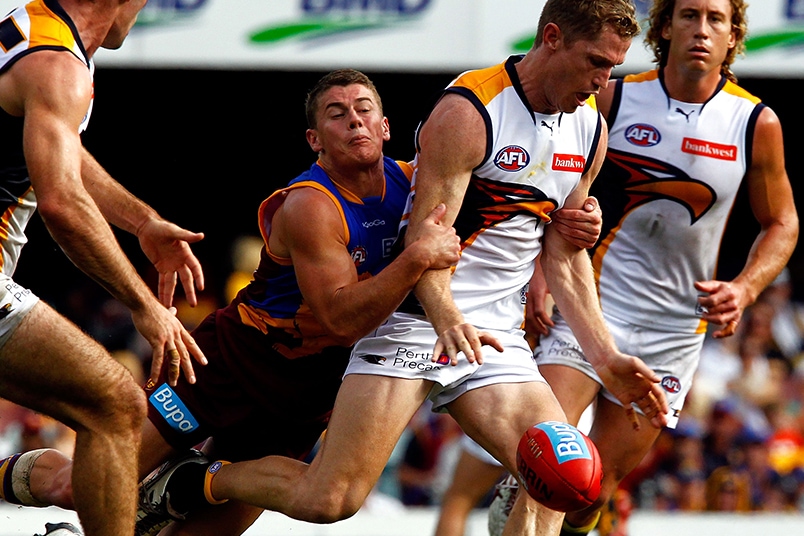 Josh Drummond was on fire, kicking three majors, leading the Lions into the last quarter. They could feel their fourth victory for the season was within reach.
But West Coast wouldn't go down without a fight, as they dominated early in the final stanza kicking two quick goals.
Once again, the home side rallied, with Brown standing strong, kicking from 50 to put the Lions within one goal.
As the final quarter wore on, it was goal for goal, until the last minute when Polkinghorne torpedoed from outside 50, nudging the Lions ahead by two points with 90 seconds to spare.
The Lions were gutsy and held on until the final siren sounded, winning 102-100.
Lions past players Jed Adcock, now the Forwards Coach, and Drummond were standouts on the night, named the two most impactful players.
Fast forward seven years to Round 1, 2019 at the Gabba. The Lions were not intimidated by such a serious drought against the Eagles.
Although in both matches, the Lions finished with 102 points, this time round their opposition only managed 58 points. The home side even kept the reigning premiers scoreless in the third quarter.
Captain Dayne Zorko and Daniel Rich are the only two players who have tasted both wins.
History repeated itself on both occasions, with Zorko and Rich kicking a goal apiece.