It's time for the final part of our 2016 Player Review series.
Today we're looking at players with guernsey numbers 41-47.
41 – Sam Skinner
Skinner was set to make his AFL debut against Port Adelaide in round 19 until a hyperextension to his knee during training was discovered to be more serious than initially thought, and would require a full ACL reconstruction.
The promising big man began his career with the Lions rehabbing an ACL injury sustained while playing for Vic Metro. While a disappointing setback, Skinner has been described as one of the club's most "professional and dedicated" young players and will no doubt work hard to give himself the best chance to debut in 2017.
How's this for courage from young Sam Skinner?

Watch our full #LionsReserves highlights: https://t.co/JiApd7CXerhttps://t.co/MS62nyJGAI

— Brisbane Lions (@brisbanelions) July 18, 2016
Coach's notes
Sammy Skinner came to the club coming off the back of a knee reconstruction, and has displayed his class and ability as a key defender in his 5 NEAFL games since. He also displayed a high level of leadership at the NEAFL level but unfortunately underwent another knee reconstruction as he approached his AFL debut. We have tremendous hope for Sam and know he will play a big part in the team's development moving forward.
42 – Justin Clarke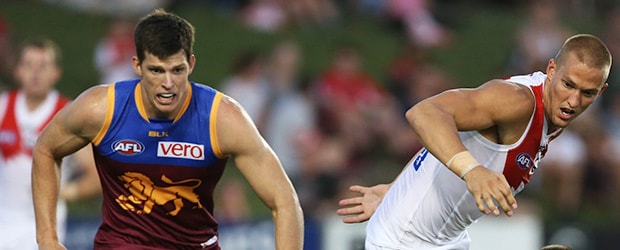 The talented 56 game defender tragically had to call time on his promising young career after suffering continued concussion symptoms following a head knock at training in January. After an arduous decision making process with Lions medical staff and concussion specialists, Clarke made the decision to retire at the age of 22. Speaking at the 2016 Club Champion night, Clarke said that while the decision was a difficult one, he had no regrets of his time playing for the Brisbane Lions.
"I'd just like to say that I'm extremely proud of the time I spent at the Lions, extremely proud that I got to wear number 42 for the team and I'd do anything to be out there again."
Coach's notes
Clarkey unfortunately suffered a concussion in the pre-season after copping a heavy knock at training, but was set for a big 2016 after a solid 2015 as a key defender. Unfortunately he had to retire due to ongoing concussion symptoms, and will be sorely missed not only as a player but as a person around the Club. We wish him well as he endeavours to move into life outside of football.
43 – Josh McGuinness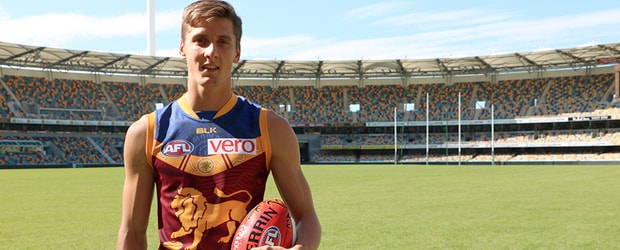 McGuinness' began the 2016 Season in rehab with a foot injury and played only six games for Brisbane's NEAFL side before missing time due to injury again. The young Tasmanian strung together a number of games in the middle of year before sustaining a hamstring injury down the stretch and was delisted at season's end.
Coach's notes
McGuinness was dogged by injuries in his two years at the Club and was unable to play a senior AFL game. Played in our NEAFL side as a wingman/halfback and showed glimpses of the form and ability that we identified upon drafting him but unfortunately has been delisted.
44 – Archie Smith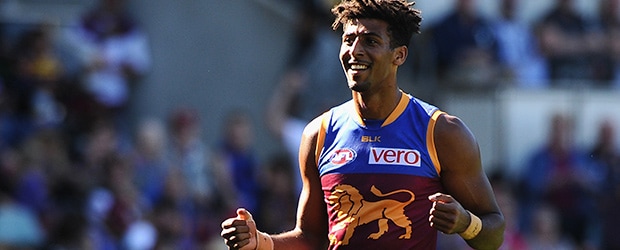 The 201cm basketball convert was rewarded for his strong NEAFL form throughout the year by making his AFL debut against Port Adelaide in Round 19. Smith made the most of his opportunity at the senior level by finishing the game with 30 hit outs and 19 disposals, the fourth most of any Lions player on the night. The ruck revelation followed up his impressive debut with 32 hit outs against Adelaide the following week and kicked his first career goal in a four point win over Carlton in round 21. Smith will look to put forth a big pre-season as he looks to firmly secure the role of second ruckman alongside Stefan Martin following the retirement of Trent West at the end of the season.
Coach's comments
In his third season at the Club, Archie was able to stand up and play three AFL games in the absence of Stefan Martin due to injury and showed the ability he possesses as a ruckman. His work around the ground and ability to mark the footy was also impressive on his way to averaging 15 possessions in his three games. A big pre-season should see him able to work in tandem with Stef Martin in 2017.
45 – Hugh Beasley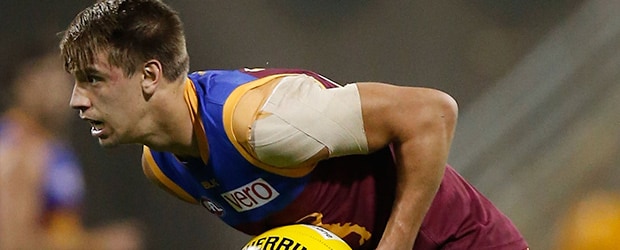 A mature-age recruit, Beasley made his AFL debut in round 10, 2015 and while he played six games down the stretch in his first Season, the physical defender was unable to register a senior game in 2016.
Injuries to both his back and knee plagued Beasley's 2016 with Brisbane's NEAFL side in which he managed only seven games in a difficult year for the Lions reserves. Beasley was delisted at season's end.
Coach's comments
Another player who suffered an injury interrupted 2016 campaign after getting a taste of AFL football in 2015. Only played 5 or 6 NEAFL games as a key defender, was on the rookie list again but unfortunately has been delisted.
46 – Billy Evans
Evans played sparingly in 2016 - two games in rounds three and nine - after playing five games in his debut year in 2015. The medium-sized defender averaged just 10 disposals in his two AFL appearances in 2016 but was one of Brisbane's most consistent performers at the NEAFL level and his effort was acknowledged by winning the 2016 Neville Fallon award as the Lions reserves Best & Fairest before being delisted at the end of the season.
Coach's comments
Evans played two AFL games this year to add to his five in 2015. Won the B&F for our NEAFL side, which was a great reward for his efforts. An in and under type midfielder who held his own at NEAFL level but just wasn't able to make the step up to AFL level and has been delisted.
47 – Reuben William
One of the genuine feel good stories from the 2016 AFL season was the debut of South Sudanese Reuben William, who fled Sudan in the midst of a civil war at the age of four and found himself putting on the Lions guernsey 14 years later. William made his debut against Gold Coast in round 16, and wasn't overawed by the AFL experience as he finished with 13 disposals, three tackles and two defensive rebounds across half-back.
The young defender displayed great pace and attack on the ball in his three senior games and will look to build his aerobic capacity and disposal efficiency as he looks toward the pre-season and more senior games in 2017.
Coach's comments
Rookie listed player in 2016 who was upgraded and was able to play three games at AFL level as a running defender. Reuben has good pace and ability to run and carry the football. Suffered an injury after his three AFL games and will need to strengthen up his body and have a bigger pre-season on the running track and take his game to another level in 2017.
More Player Reviews

Numbers 1 - 5

Numbers 6 - 10

Numbers 11 - 15

Numbers 16 - 20

Numbers 21 - 25

Numbers 26 - 30

Numbers 31 - 35

Numbers 36 - 40